Art is a subject for cultivating the thinking ability and judgment of children. We develop curriculums for improving these abilities.
When children today are asked to draw a picture, most of them draw not something original but something based on existing characters. What is important in arts and crafts classes is to bring out the children's imagination and ability to think for themselves. In and outside Gifu University, I develop hands-on art curriculums for elementary and junior high schools, and train teachers to identify individuality and diversify perspectives through contact with many children.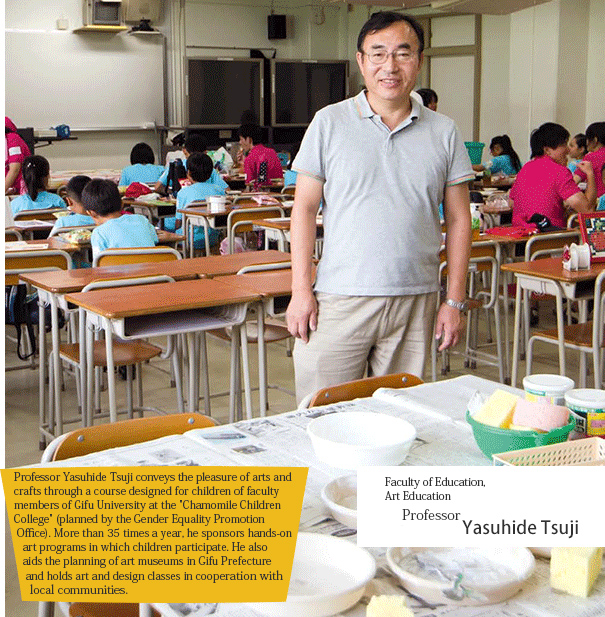 Children can cultivate important abilities for their growth through arts and crafts classes.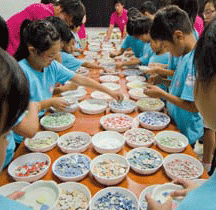 Art is not something difficult but exists in your immediate surroundings. The process of drawing a picture or making something is a life experience, that is to say, it is a process of finding your own perspective and way of thinking by feeling challenged and searching. What is important is for children to think, select, and imagine for themselves. To that end, we present works of diverse artists as information to them. Afterwards, we leave it to the children how to appreciate the works and wait until they start creating.

Children generally enjoy drawing pictures until they are at kindergarten. After that, however, they gradually become conscious of being good or not, and by the time when they reach the upper grades of elementary schools, many of them shy away from drawing pictures. How art classes should be prepared for such a period is an important issue. We think it necessary to offer hands-on classes where children can learn that pictures can be expressed not only in realistic methods similar to photos but also in various other methods such as abstract painting and design.

With the aim to develop educative art curriculums and conduct research into teaching methods, I have been engaged in various educational activities with university students such as open courses in and outside Gifu University and short programs at elementary and junior high schools. Among such activities, we offered short programs where children can freely appreciate and talk about works of art in order to increase their artistic appreciation. Based on the results of such classes, we started "School Museums" in which works by living artists are exhibited in schools, in 2012.

We train teachers to have diversified perspectives by giving students opportunities to come in contact with children.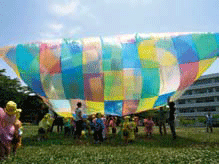 At the "School Museums," in addition to seeing exhibited works, children can also enjoy workshops and live creative demonstrations. So, the children see there are a wide variety of methods of expression and appreciation.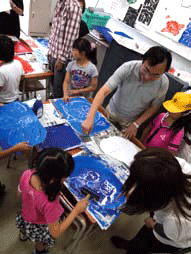 For example, in a "colorful parasol" workshop where children draw pictures on transparent vinyl umbrellas, they thought and devised on their own ways to reflect patterns of sunlight by lining the umbrellas on the walls of school buildings, as well as decorated playground equipment by hanging umbrellas on it. Even if adults take a top-down approach to convey their thoughts, children cannot truly understand it. Children grow by experience, learning and thinking for themselves.
These art activities in and outside the university are great opportunities for students to understand children through hands-on experience. After graduating from university, many students become teachers and play a central role in schools. We want to continue enjoying arts and crafts with children, and continue the effort to train future teachers with diversified perspectives.

Art classes planned and directed by Professor Tsuji to draw out children's abilities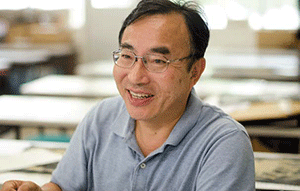 Redon experience
In this class, after appreciating the works of painter Odilon Redon owned by the Museum of Fine Arts, Gifu, children freely draw pictures by imagining themselves as Redon. Children learn that an "appreciation" for art gives them an incentive to "express themselves" and hints on how to express themselves through pictures and handcrafts.
Playing games with art cards
Works owned by frontline museums in Gifu, Aichi, and Mie Prefectures are reproduced on the cards. Children first learn about the works by playing games using the cards and then appreciate the original works afterwards. This way, the cards give children the incentive to familiarize themselves with the works and help them to develop an inquisitive mind.
Drawing pictures with soil
Children draw pictures in soil with their fingers instead of with brushes and paints in this class. As children handle the soil and enjoy extreme expression, they learn that pictures can be expressed not only with realistic methods but also with dynamic and abstract methods.
Internal links
Original sites
External links
File links