Access
Public Transportation Access to Gifu University


From JR Gifu Station・Meitetsu Gifu Station
(approximately 7km)
1. Access by Gifu Bus (approx. 30minutes, 320 yen)
2. Access by taxi (approx. 20minutes, 3,000 yen)
*From JR Nagoya Station to JR Gifu Station (approx. 20 minutes)
*From Meitetsu Nagoya Station to Meitetsu Gifu Station (approx. 30 minutes)
From Gifu Hashima Station (Shinkansen Line)
(approximately 20km)
1. From Gifu Hashima Station to Meitetsu Gifu Station (via Meitetsu Takehana Line) takes approximately 30 minutes.
2. Access by taxi to Gifu University takes approximately 40 minutes.
From Central Japan International Airport (Centrair)
*From Centrair to Meitetsu Gifu Station (via Meitetsu Airport Express/μ-Sky) takes approximately 60 minutes. (1,340 yen+360 yen express ticket)
In addition, you can also take the limited express train. Please note that there is no direct access by bus from Centrair to central Gifu City.
■1-1 Yanagido, Gifu City 501-1193

Access Map (Click to enlarge)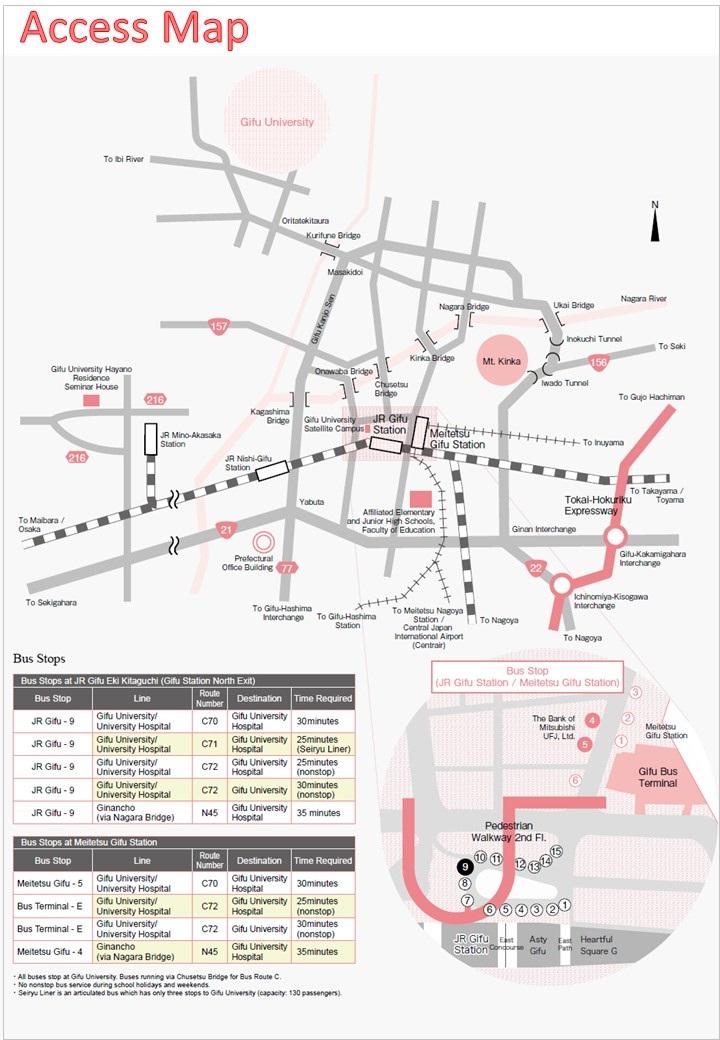 Required time between Centrair and Gifu University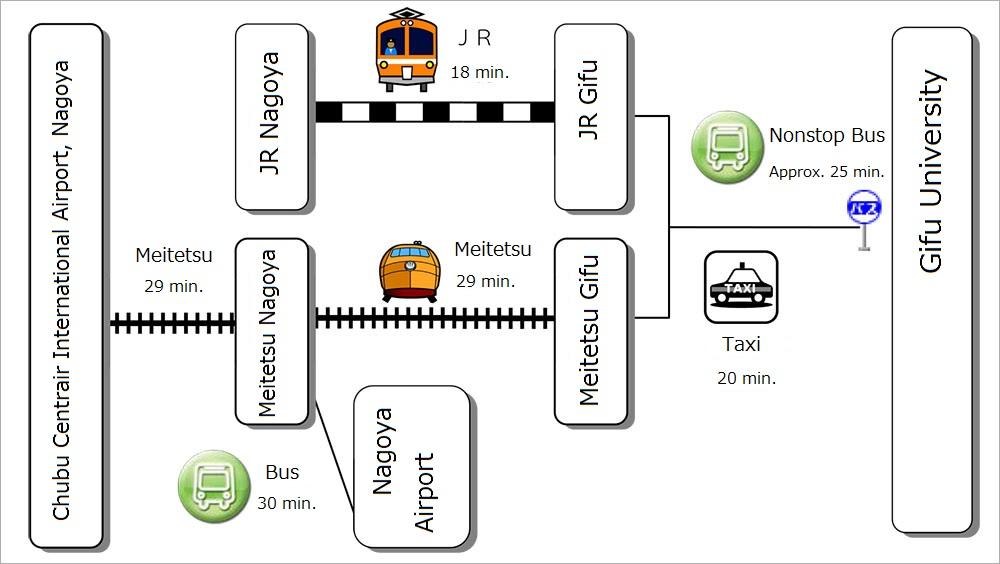 Bus lines from stations

JR Gifu Station
[Bus Stop No.9]

Meitetsu Gifu
[Bus Sotp No.4, No.5, E4]※1

Gidai Liner (nonstop)
Seiryu Liner ※2
Gifu University / University Hospital
C70(Bus Schedule)

----->

Approx.
30 - 35 min.
/ 320 yen

Gifu University/
Yanagido Bridge/
University Hospital

Ginancho
N45(Bus Schedule)

----->
Approx.
35 min.
/ 320 yen
※1. The locations of the bus stations from Meitetsu Gifu Station to Gifu University vary according to the routes. Please check the locations on the Access Map above.
※2. Seiryu Liner bus and Gidai Liner bus stop only at major bus stations. Please check the station and the route in the Bus Schedule above.
Internal links
Original sites
External links
File links