Welcome Greetings from the President, Kazuhiro Yoshida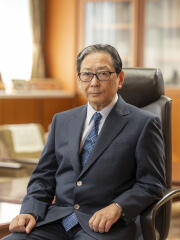 On April 1, 2022, I had the honor of being appointed Executive Trustee / Vice Chancellor of Tokai National Higher Education and Research System (THERS) and the 13th President of Gifu University.

In this important juncture of the beginning of a six-year "Fourth Mid-Term Objectives and Plan" set by the Ministry of Education, Culture, Sports, Science and Technology (MEXT) of Japan, Dr. Seiichi Matsuo (THERS Chancellor), Dr. Naoshi Sugiyama (President of Nagoya University), and I are fully committed to pursuing our shared goals of achieving dynamic, robust growth and greater academic excellence between our two institutions implemented under the new framework which brought us together as a single corporate entity in April 2020.

This year marks the third anniversary since the establishment of this joint entity, THERS whose creation has facilitated a deeper engagement in a wider range of joint educational and research projects. I would like to take this opportunity to extend my heartfelt appreciation to the outgoing president Dr. Hisataka Moriwaki, the 12th President of Gifu University for his remarkable efforts in successfully launching THERS and strengthening the University's national and international presence and pride.

The institutional motto, "Regions for the world, and the world for the regions" serves as our crucial guiding principle to help us navigate through the New Normal. This motto sums up our belief that individual undertakings that contribute to the well-being of local citizens can pave the way towards attaining global competitiveness. The execution of the "Startup Visions" consisting of the following three objectives is instrumental in achieving this goal: (1) provide world-class education for our students, (2) consolidate knowledge through carrying out the state-of-the-art research initiatives, and (3) contribute to the international community and co-create local communities by addressing diverse social and business agendas.

As "a hub for knowledge integration and human resource development," Gifu University has been reinforcing its academic and research prowess and closely collaborating with the community and private sector. We have also been playing an integral role in creating a future-oriented society right here in the central Tokai region through fulfilling our educational and research ambitions, collaborating with different segments of society, and promoting internationalization as the nation's center for community revitalization and engagement.

Under the university's ideals and aims of "Learning, Exploring, and Contributing," we are committed to ensuring an environment where young talents can learn, explore and contribute in their respective fields of expertise for the pursuit of growth and personal dreams.

The Academic Central for English and Mathematical Data Science education jointly operated by our two universities focuses on cultivation of human resources who are capable of "creating a human-centered society that balances economic advancement with the resolution of social problems by a system that highly integrates cyberspace and physical space (Society 5.0)." We are convinced that our unique, distinctive educational curriculums can serve the best interests of our students in building their own future with strong commitment and courage. Additionally, the University is currently placing a strong emphasis on the distinct fields of liberal arts, mathematical data science, and design thinking. In design thinking, students learn how to become proactive in developing their research agenda, enhancing their problem-solving skills, and evaluating the efficacy and economic potentials and feasibility of different solutions reached.

While embracing our tenets of "attaining global competence" and "community co-creation" as the "two wheels of a cart," the advancement of THERS' four core educational and research directives has witnessed fast-paced progress. These directives are namely: Institute for Glyco-core Research (iGCORE), Aerospace Research and Education Hub (AREH), Center for Healthcare Information Technology (C-HiT), and Education and Research Institute for Agricultural Sciences. We await with eager anticipation that the roll out of these new strong initiatives by Gifu University will eventually produce many outstanding results and achievements through the fruits of long endeavors.

Our major mission for social contributions and promotion of internationalization is to transform the University as an academic catalyst for societal alliance and collaboration among industry-academia-government, and to give back the benefits of these achievements to the community. In addition, by engaging in world-class research initiatives, we seek to build a sustainable, productive cycle of contribution to society. In this respect, by enforcing the "Tokai Project to Renovate Area Chubu into Tech Innovation Smart Society ("TOKAI-PRACTISS"), THERS can be a driving force for international and local community co-creation. The full implementation of the Fourth Mid-Term Objectives and Plan by MEXT is imperative for achieving the ultimate goals of social contributions and internationalization among THERS' stakeholders.

In our efforts to embody the new mission of "Migration, Laboratory, Innovation, Education," Gifu University is pushing forth the five objectives of "Human Resource Developments," "Food Manufacturing," "Product Manufacturing," "Creation of Businesses and Community-Building," and "Development of New Medical System." Community co-creation, pioneering research projects, innovations and strategic education promotion schemes will make it possible to further expand our educational and research boundaries and bolster our community contributions. Nurturing the next-generation human resources capable of translating our goals and ideals into reality is admittedly a daunting challenge in these days of globalization and rapidly aging society in Japan, but we are engaged in partnering with our students' journey in learning, exploring and contributions towards the realization of their dreams and ambitions. I sincerely hope that a talent pool arising from our university can create the conditions in society where all its citizens can lead fulfilling, rewarding lives in their own communities at home and abroad.

I call upon all of you to collaborate with us as academic and professional partners in generating and inspiring policy ideas that fulfill the heart of the university's future goals and missions.
Kazuhiro Yoshida President, Gifu University
---
Internal links
Original sites
External links
File links