School of Social System Management

 School of Social System Management Website



"Pursuit & Exploration:
Learn and merge knowledge, experience, and the society."

In the time of dynamic changes in the society,
Be flexible to understand unknowing sets of values.
Learn from actual fields and discover frontiers.
Unite various learnings and create our futures.

School of Social System Management Overview
The School of Social System Management develops and produces human resources capable of designing business management innovations, realizing an affluent and vibrant society, and continuing to further develop their management skills.
As a new member of the Gifu University community, and under the framework of "Tokai National Higher Education and Research System (launched in April 2020 with Nagoya University)," the School of Social System Management offers multiple interdisciplinary classes to students with "business management" as the focus.
As a new member of the Gifu University community, and under the framework of "Tokai National Higher Education and Research System (launched in April 2020 with Nagoya University)," the School of Social System Management offers multiple interdisciplinary classes to students with "business management" as the focus.

The School of Social System Management provides an optimal academic environment for students and academic staff to grow together through close collaboration between university and society.

Ideal Human Resources
The School of Social System Management cultivates the following talent:
Those who can develop unique social fabrics based on their understanding of history and distinctive environments found in rural and urban areas--those who can make the right decisions for our future based on the information they have gathered from multiple and diverse sources.
Those having wider perspectives and proactively engaging in business activities, community management, and production through their unique visions for the future and by facilitating close collaborations between people and organizations--those who can ensure effective coordination between professionals from businesses, academia, and the public sector.
Those with strong potential for entrepreneurship, capable of creating and presenting new sets of values.
Those who can architect new businesses that formulate ideal management styles by utilizing resources effectively and efficiently--those with profound knowledge of "area management design" and "tourism design" to redesign the existing socioeconomic systems with a flexible frame of mind and build a vibrant, dynamic society whose members address issues that their community is seeking solutions for.

Career Path after Graduation
The School of Social System Management works closely with private enterprises and local municipalities to help students become highly skilled professionals. In addition to studying business management, students are given opportunities to learn how to become successful entrepreneurs and receive support for their future endeavors. After graduation, they are expected to play a pivotal role in managing business enterprises deeply rooted in the local community and local government.
Career Path
Required Skill Sets
Private Enterprise

Address socioeconomic issues by best utilizing the company's assets
Create a customer-friendly business
Support business operations from wider perspectives

Public Servant

Free from conventional frameworks, make plans to reflect locals' voices on-site
Architect a business that caters to the community's needs

Family Business Successor

Adapt to rapid changes while valuing the merits of traditional management styles
Develop new products and services that cater to the community's needs
Serve as a "bridge" for different businesses beyond regional borders

Destination Management Organization (DMO)

Create new regional resources
Fill a "gap" through business on behalf of public and private sectors

Entrepreneur

Build a new business (seeds-based)
Build a new business (needs-based)
Spark innovations on-site

Higher Education

Think through how to realize a sustainable society
Go beyond the boundary of one academic subject
Narrow down and develop a better understanding of social issues

Skills Required
In addition to the basic skills required by Gifu University, the School of Social System Management helps students develop the following skills to work for the benefit of society.
1. Multifaceted Thinking Skills
 Based on comprehensive and extensive knowledge in a given field, identify changes and address issues from multiple perspectives.

2. Data Analysis and Logical Thinking
 Collect and analyze data to find challenges to work on, seek solutions, and draw logical conclusions.

3. Communication Skills
 Develop high communication and coordination skills to cultivate smooth human relationships and solve problems.

4. Skills to Pursue and Address Issues through Design Thinking
 From users' viewpoints, apply the concept of "design thinking" to tackle challenges in businesses, local communities, organizations and so on.

5. Expertise and Management Skills
 Acquire expertise to manage operations of businesses/local municipalities based on high ethical standards.

6. Entrepreneurship and Social Contribution
 Create new sets of values from the standpoint of entrepreneurship, and contribute to building a new, vibrant society.

Curriculum
The School of Social System Management curriculum is based on the following principles:
Students study general subjects, namely liberal arts, social sciences, natural sciences, and communication skills in foreign languages, to develop their understanding of social affairs from a global perspective. First-year students learn how to shift their focus from lecture-style, text-oriented classwork to more proactive classwork such as attending practical training programs/workshops.
Students study basic subjects, namely statistics, information processing, economics, and accounting. They also learn "logical thinking," which is necessary for data analysis in business, area management, and tourism design.
By studying the abovementioned subjects, students' active learning in the following course areas can help them acquire extensive knowledge of business management: 1. Reflection 2. Study Portfolio 3. Comment Sheet 4. Group Work 5. Presentation.
Students attend practical management training programs, and classes on business design, area management design, and tourism design for private and public enterprises, and learn how to develop smooth human relationships and tackle issues in a more practical and pragmatic manner.
Students are allowed to attend classes of the faculties of Education, Regional Studies, Engineering and Applied Biological Sciences, as well as those offered by Nagoya University, and obtain credits. By attending classes of their interest, they can further develop their understanding of their field.
Students' academic performance is evaluated in accordance with the university evaluation regulations/criteria indicated in the syllabus of each subject.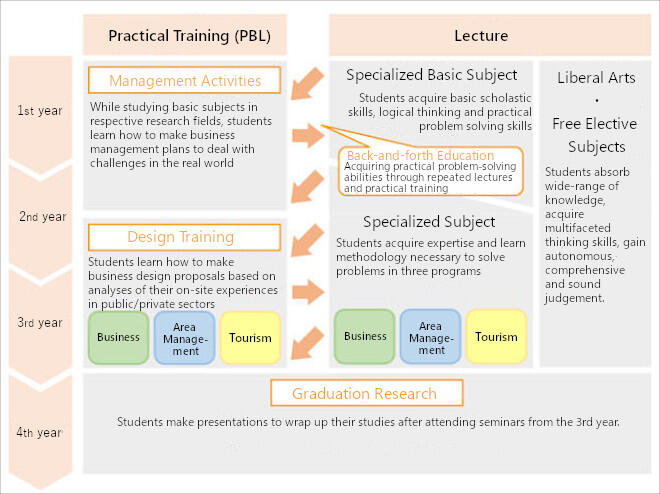 Requirements Students Must Fulfill
The School of Social System Management teaches students how to acquire comprehensive, extensive knowledge in a given field and nurture a sound spirit through its distinctive interdisciplinary curriculum. Students study the subjects of their own choice and business management, and develop problem-solving skills by mastering "design thinking." The ultimate goal of the school is to produce individuals who can take on leadership roles in society as responsible members of the community.

The school accepts students who have a strong interest in business management in public/private sectors, NPOs, and so on.

To achieve the abovementioned goal, students must:
Have a strong interest in social affairs in Japan and abroad and be armed with basic knowledge,
Have the powers of comprehension and logical thinking,
Be ready to understand others and seek collaboration, and able to convey messages,
Be willing to act and enjoy challenges, and
Be curious, and able to address challenges and find solutions.
Internal links
Original sites
External links
File links