Others

Japanese Web Page
UNESCO

Associated Schools

Providing support for Gifu Prefecture schools in applying for UNESCO Associated Schools to help increase such schools in Gifu

In 2011, Gifu University became a member of UNESCO Associated Schools Project Network (ASP Univ net ). We have been helping to increase the number of UNESCO Associated Schools in Gifu by partnering with Gifu Prefectural and Municipal boards of education, UNESCO Associations in Gifu Prefecture, and other organizations.

As of December 2013, two schools in Gifu Prefecture are UNESCO Associated Schools. Both schools are engaged in unique activities rooted in the community, while many other schools are engaged in activities leading to Education for Sustainable Development (ESD). In academic year 2013, Gifu University hosted training sessions for schools in Gifu Prefecture, visited schools that had experience in human rights education, international understanding, etc. and explained to school officials about UNESCO Associated Schools. These activities were aimed at 1) urging these schools to become UNESCO Associated Schools using their unique curricula and traits, 2) helping UNESCO Associated Schools provide the impetus for developing such activities.

 

Support For UNESCO Associated Schools

Hosted a training session for UNESCO Associated Schools in Gifu Prefecture in academic year 2013 (August 19, 2013)

Theme: "Deepening understanding of ESD, and pursuing goals to become a UNESCO Associated School"

Objective: To broaden the horizons of participants regarding implementing ESD, help them develop clear images of ESD, and propose specific measures for becoming a UNESCO Associated School.

Target: Elementary and secondary schools in Gifu Prefecture and other institutions

Lecture 1: "Activities at Yanagawa Elementary School" By Mr. Takeo Ouchi, a teacher at Yanagawa Elementary School (in Koto Ward, Tokyo)

Lecture 2: "The Road to becoming a UNESCO Associated School" By Mr. Kiyoharu Nohara, a teacher at Nagamoriminami Elementary School, a public elementary school in Gifu City

Introduction to Gifu University's ESD activities and on-campus resources (Gifu University student organization "ESD Qualia" and others)

Introduction to activities by UNESCO associations in Gifu Prefecture (Gifu UNESCO Association, Ogaki UNESCO Association)

* Roughly 30 faculty and staff working for elementary schools and junior and senior high schools in Gifu Prefecture attended the event, and listened intently to case studies conducted in other prefectures, which had been requested by the previous year's participants. After the sessions, participants were exchanging information on issues observed in their respective schools. In surveys conducted after the training sessions, most respondents said they deepened their understanding of ESD and UNESCO Associated Schools. Therefore, we believe that we were able to contribute to boosting understanding of UNESCO Associated Schools and ESD through the training sessions.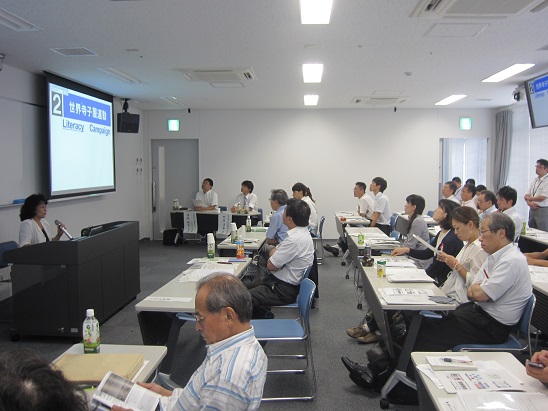 Participants listening attentively to
    lectures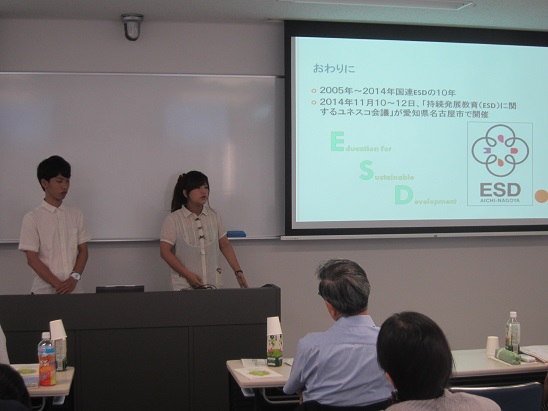 Presentation by student organization
"ESD Qualia"
Future Supports
* Support with application forms: Professors from English Education course of Faculty of Education will lead efforts to help schools fill out English-language application forms to become UNESCO Associated Schools, which is often the barrier that prevents Japanese schools from applying.
* Support for ESD activities: Gifu University has many resources that can be used for environmental studies, local studies and international education programs. We will dispatch faculty or international students to schools in Gifu Prefecture, if requested, to support their ESD activities.
Gifu Regional Council for the Promotion of International Exchange
The Gifu Regional Council for the Promotion of International Exchange was established with the aim of facilitating smooth acceptance of international students and exchange activities in Gifu Prefecture. The secretariat is established in the Gifu University Head Office for Glocalization.
Contact: Gifu University Head Office for Glocalization
Internal links
Original sites
External links
File links