Creating an even more delicious rice flour bread! "There are ongoing initiatives aimed at the creation of Gifu University bread."
*Information related to faculty members/students and graduate schools at Gifu University here are all that of the time of interviewing.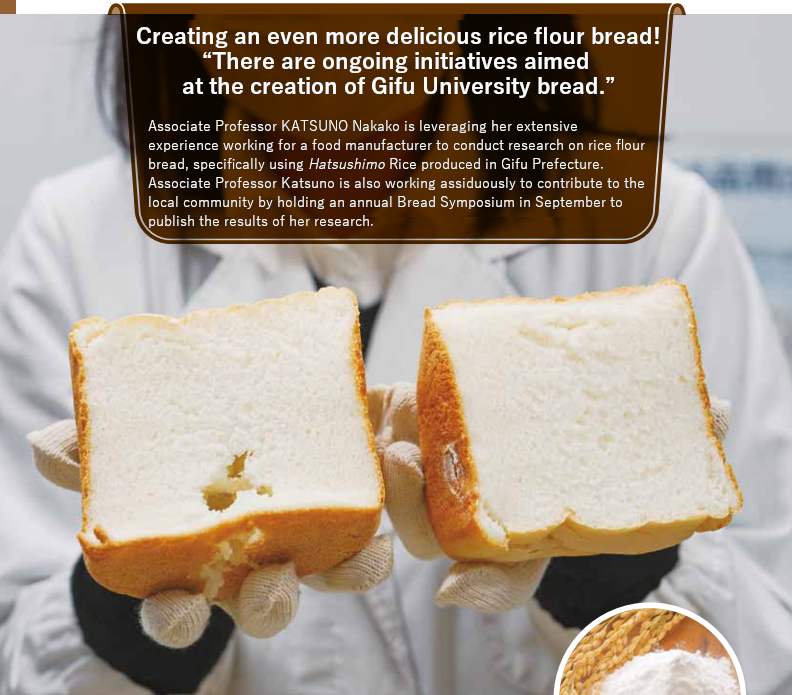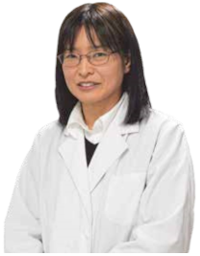 Associate Professor of Course of Applied Life Science, Faculty of Applied Biological Sciences, Gifu University

KATSUNO Nakako
Associate Professor Katsuno was born in Ikeda, a town in the Ibi District of Gifu Prefecture. She graduated from the Faculty of Agriculture, Gifu University, where she where she specialized in Bioresource Utilization. She started working in the food manufacturing industry, where she worked with Shinsei Co., Ltd.(headquarters: Aichi Prefecture) After working extensively on the research and development of food products, mainly sesame seeds, she returned to Gifu University as a researcher. She is a core member of the Bread Symposium, which is jointly hosted by the Faculty of Applied Biological Sciences, Gifu University. She is also a recipient of the AP Award (Audience Evaluation Category) at FOOMA JAPAN 2022 (International Food Machinery & Technology Exhibition) for her presentation titled, "Developing New Bread Manufacturing Technology to Contribute to Reaching sustainable development goals (SDGs)," which was jointly researched with Professor NISHIZU Takahisa and Associate Professor IMAIZUMI Teppei from the Faculty of Applied Biological Sciences, Gifu University.
She started researching rice flour bread after being inspired by GABA rice.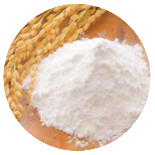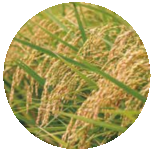 Have you ever tried rice flour bread? My areas of specialization are the fields of food processing and food science. However, one of the areas I am particularly interested in is research on rice flour bread.

After graduating from Gifu University, I started working with a food manufacturer, Shinsei Co., Ltd., that was involved in the processing and sale of sesame seed products. Shinsei may be known by several people as the company that runs the theme park, Goma no Sato, in Sekigahara, Gifu Prefecture. I worked on my doctorate while working at the company and conducted joint research with Gifu University. Afterwards, in 2014, I was fortunate to take up my post as assistant professor at the Faculty of Applied Biological Sciences, Gifu University.

I started conducting research on rice flour bread as soon as I returned to Gifu University as a researcher. In my previous job, I had examined how to increase the active agent, GABA, present in sesame seeds. Afterwards, a GABA rice manufacturer in Yoro (a town in Gifu) consulted me regarding some challenges they had encountered while trying to make rice flour bread with GABA rice. Two main issues were encountered. Firstly, during the fermentation process of rice flour bread, the GABA present in the rice was assimilated by the yeast. Secondly, when using only rice flour, the dough failed to rise sufficiently. To address these challenges, I conducted additional research to explore potential solutions.

I also worked on analyzing the physical properties and aromas of bread made using the Yudane manufacturing method upon request from a flour milling manufacturer. In the Yudane method, hot water is added to wheat flour, which is then kneaded and left overnight. The resulting dough has a texture that is similar to that of rice cakes. When Yudane is added to bread dough, it increases the sweetness of the bread and gives it a "springy" texture. Furthermore, I conducted research to analyze the aroma of rice flour bread made with Konayukihime, which is a variety of rice used for rice flour that was developed by the Gifu Prefectural Agricultural Technology Center. Due to my wealth of experience in analyzing sesame seed aroma while working at Shinsei, I was frequently consulted on aroma-related matters, even after I started working at Gifu University.

At first glance, food aromas may seem simple, but in reality, these aromas are made up of a mixture of hundreds of different types of components. My research often involves separating each individual component and conducting detailed analyses to ascertain the composition of each component in the aroma. Some methods of analysis rely on our own sense of smell, and we often record our findings while taking notes on the aromas we smell with our noses.

Rice flour bread has an aroma that is different from that of bread made using wheat flour; therefore, I initially said to myself "My goal is to create an aroma that closely resembles that of wheat flour bread." However, after performing aroma analysis for a while, I recently switched my mindset when I realized that "Rice flour bread is different from normal bread. It would be better to make it a delicious bread in its own right."
Bread Symposium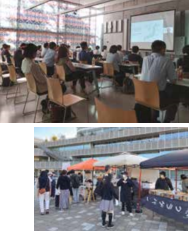 The first Bread Symposium was held in 2017 at the suggestion of Professor Tohru Suzuki, a former professor of the Faculty of Applied Biological Sciences, who achieved outstanding research results in microbiology. He proposed establishing a venue for gathering and presenting various research outcomes, noting that bread was the topic of the senior theses of many students. The Bread Symposium 2022 was held on September 20, 2022 (Tuesday) at "Minna no Mori - Gifu Media Cosmos." The symposium included special lectures on bread as well as public lectures introducing one part of the latest research on bread. Ako Mari, a well-known writer and scholar of the history of domestic life, was an invited speaker at the symposium and delivered a lecture titled, "Why is Sweetened Bread and Savoury Bread Popular in Japan?" There was also a new project, Bread Mini Market, where bakers from delicious bakeries in Gifu suburbs opened stalls in the "Minna no Hiroba - Kao Kao" of Gifu University. Although a typhoon prevented the Mini Market from holding on the same day as the symposium, a sales promotion event that was held on a different day was very successful as many people attended. The Bread Symposium 2023 is scheduled to take place on September 19, 2023 (Tuesday) at "Minna no Mori - Gifu Media Cosmos."

Making more delicious rice flour bread using okayu (rice porridge)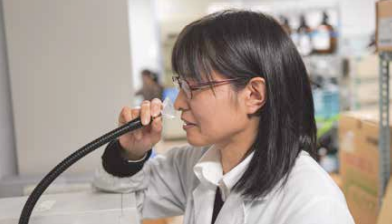 A close examination of recent research on bread will reveal that although there is ongoing research on conventional bread made using wheat flour, a large number of researchers are working on rice flour bread with the aim of producing gluten-free bread. Using rice flour to make bread is still costly, and bread made with 100% rice flour is often quite expensive. There are also different grades of flour, and the properties of flour vary significantly depending on how the flour is milled. As a result, a part of my research focuses on utilizing Hatsushimo rice from Gifu Prefecture to produce bread using minimally processed rice flour.

The process of making bread using rice flour is quite different from that of making wheat flour bread. With wheat flour bread, the dough can be molded and then degassed after it rises. However, when using rice flour, the bread is made by pouring the dough into a mold because the dough is sloppy and cannot be molded into shapes.

I have included my rice flour recipe on page 7. The key point is adding okayu during the kneading process. Rice flour does not contain gluten, which is a protein that can be found in wheat flour. When making bread with wheat flour, the shape of the bread is formed by air bubbles comprising carbon dioxide that is produced during fermentation by yeast. However, because rice flour lacks gluten, it remains sloppy and is unable to retain its shape because the carbon dioxide escapes. The dough also does not sufficiently rise. Therefore, okayu is used to retain the carbon dioxide. If you tried making rice flour bread and found it difficult, you should definitely try the recipe on page 7. If you do not have a bread maker at home, you can bake delicious rice flour bread by pouring the dough into a pound cake pan.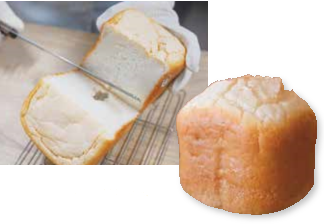 Generally, rice flour bread tends to deteriorate, and become dry and unappetizing. However, adding okayu to the recipe significantly slows this deterioration. Why does adding only rice to rice flour inhibit deterioration? We are currently undertaking research to clarify this mechanism (refer to the figure below).From the onset, there were talks on campus indicating that "we want to make Gifu University Bread." Therefore, we want to use this opportunity to make bread. We are being particularly selective about using ingredients produced by Gifu University, as we are using the yeast cultured at Gifu University and rice cultivated in the Gifu University farm. Different types of rice, such as red rice are cultivated at the Gifu University farm; therefore, we may be able to make unique types of bread that are not available elsewhere. The university holds the Bread Symposium every September to widely showcase the results of bread-related research; therefore, we hope to unveil Gifu University Bread at the symposium next year.
Physical properties and improved shelf-life of gluten-free rice flour bread using okayu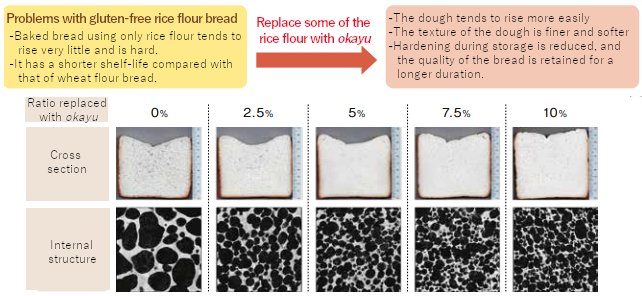 I want to create products that are useful to the society and help people in need.
The primary objective of my research on rice flour bread is to contribute to the society. The recipe included in this article was devised with the hope of helping people who have allergies.

As mentioned earlier, the impetus for starting research on rice flour bread was my research on GABA rice using Hatsushimo rice produced in Gifu Prefecture. In fact, a farm was located at my family home in Ikeda, where the Hatsushimo rice was grown. As a person who understands the difficulties faced by the farming industry, I wanted to contribute to the revitalization of the farming industry in Gifu Prefecture by expanding the use of rice. It is said that there is a "valley of death" between publication of research results to a product becoming commercially viable; however, I feel that research on rice flour bread can lead to the development of tangible products. I hope to contribute to the society at large by utilizing my research results to commercialize rice-based products.
Recipe by Associate Professor Katsuno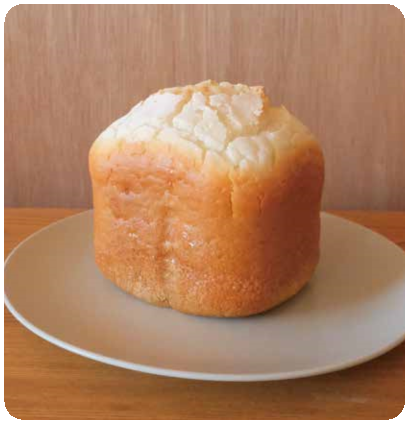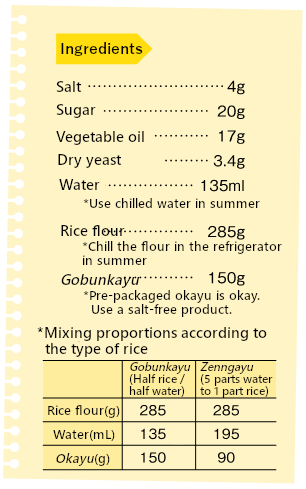 【Items needed】
  •Kitchen scales •Measuring cups
  •Bread maker (bread maker with rice flour bread mode)
---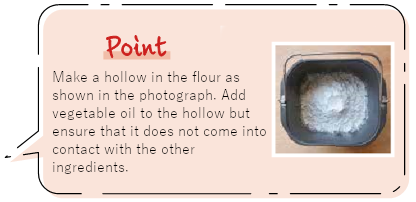 Instructions
1. Add water and Gobunkayu in the bread pan

2. Add salt and sugar to 1.

3. Add the rice flour to 2, form a mound, and create a hollow in the center of the mound.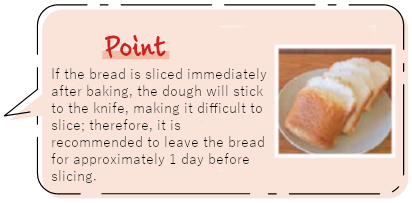 4. Add vegetable oil to the center of the hollow.

5. Add the dry yeast.

6. Start the bread maker in "rice flour bread" mode.

7. Once the bread is baked, remove the bread from the bread pan and leave for approximately 1 day.

Internal links
Original sites
External links
File links