Business ventures originating from GU, fostering of future entrepreneurs
*Information related to faculty members/students and graduate schools at Gifu University here are all that of the time of interviewing.
GU aims to produce a stream of start-ups and entrepreneurs for sustained reinvigoration of the local economy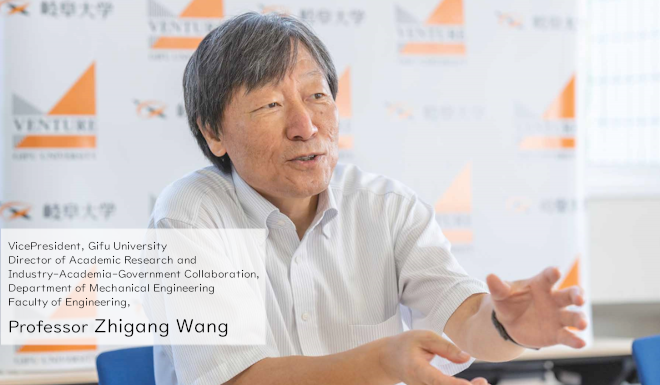 Creating systems that allow faculty and students to utilize their research results to start their own businesses.
To realize the mission of the Tokai National Higher Education and Research System, Gifu University (GU) has established a "regional development vision 2030" that coordinates basic policies and "active plans" for future academic research and industry-academia-government collaboration from the 2020 academic year onwards. Within this vision, the construction of a Tokai Startup Ecosystem is a project that has already begun to be implemented.

This project aims to foster young people with entrepreneurial spirit, to facilitate the utilization of world-leading knowledge at universities in order to create business ventures there, and to contribute to regional regeneration. Thus, the Academic Research & Industry-Academia-Government Collaboration Office plans to enhance systems that encourage the creation and growth of business ventures at universities, increase the number of such business ventures, and accelerate their development and expansion. As a result, we intend to create new value, revitalize the economy of the Tokai region, create new industries, and contribute to the construction of the Tokai Startup Ecosystem.

GU faculty are already engaged in research focused on various social problems, and are promoting initiatives that utilize the results obtained in this research to resolve those problems. However, our past research style involved the pursuit of projects in cooperation with private-sector companies and research institutions, and final implementation in the society was done by an external company. While this is a valid model, the intention to develop larger projects or innovative businesses that radically change lives calls for the use of a different model; such as the one in which faculty members or students who have conducted relevant research can utilize their own results to start businesses. Thus, the intention behind the Tokai Startup Ecosystem is the construction of a cycle in which: i) systems that encourage people to create businesses from relevant researches are established ii) young people with entrepreneurial mindsets are fostered and iii) entrepreneurs emerge to revitalize the economy in the Tokai region.

Creating a business venture certification system and a financing scheme unique to GU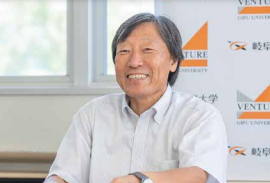 Some five years ago, the five universities in the Tokai region, led by Nagoya University, collaborated to launch the Tongali Project with the aim of fostering entrepreneurs. The Tokai region in Japan does not have a particularly strong entrepreneurial spirit. There are a lot of manufacturing industries, and a notion that few people would want to set up their own business. However, there has been a recent increase in the number of students showing interest in the Tongali Project, and in the number of faculty members and students aiming to set up business ventures within their universities. Given the emergence of a string of promising venture businesses that utilize original research results, a system for certifying GU business ventures was established in 2019.

Presently, six businesses have been certified under this system. Certified businesses are allowed to use open source and shared facilities within GU at the University's expense, and they also receive generous support such as introductions to potential partners (other businesses, local authorities, regional financial institutions, venture capital providers, etc.), advertising via the University, and advice regarding intellectual property. Meticulous support is offered with regard to the problems that arise when running a business.

Additionally, a factory space with the latest machine tools, 3D printers, and CAM/CAD systems was set up in 2020 as a creative space in which various ideas could take shape, and this space was made available to certified start-ups. Thus, when new entrepreneurs want to build prototypes for example, they have facilities that enable them to produce them faster. We do not think there are many other examples of such schemes in Japan.

GU also provides various kinds of support before a business venture is set up. This includes the start-up gap financing scheme launched in 2020, which is unique to GU and linked to the Tokai Startup Ecosystem project. The two national universities of Tokai, GU and Nagoya University, sent 25 applications for this scheme, 10 of which were ultimately accepted, and three of which were applications from students. Currently, all the successful applicants are setting up businesses, and applicants that narrowly missed out are receiving ongoing support to keep their entrepreneurial spirit alive.

GU's entrepreneurial support is made possible due to the constant reinforcement provided by Associate Professor Masayuki Uehara, from the initial incubation of the idea of starting a business to the tackling of problems faced when actually setting up a company. If a different person is responsible for each phase, everything has to be explained ab intio each time. Having the same person escort them throughout is doubtless very encouraging for the entrepreneurs concerned.

Additionally, there is generous ongoing support in the utilization of the various resources available in the Tokai region. These include collaboration with business support bodies, financial institutions and universities in the Gifu area, the establishment of individual meetings with external specialists, and external training and funding support.
 Tokai Startup Ecosystem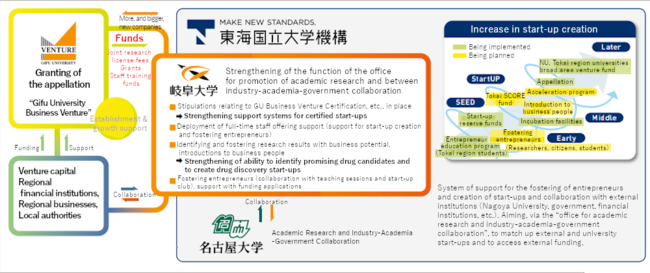 GU aims to generate businesses with social impact
We envision a future where we gather 20-30 business ventures under the same roof, and provide a space in which entrepreneurs can easily exchange information as they drink their morning coffee together. The entrepreneurs will all study somewhere in the building, and interaction will occur as a matter of course. Financial institutions may even be asked to become a part of that space. Students who visit will also have the excellent opportunity to easily speak to seniors who are involved in start-ups, and such a place can surely play a role in business venture education. The creation of such facilities will surely strengthen the entrepreneurial spirit of our students.

Currently, business ventures are scattered across the University, and this kind of activity is not being made possible, partly due to space constraints. Those who have set up business ventures are enthusiastic and dynamic, and had they been able to work together in one place, inspiration would surely have radiated into nearby facilities. We think that there will be an increase in the number of students wanting to try the same thing themselves.

A business venture must come across various trials and tribulations before it can properly get on track. The first few years are likely to be fraught with difficulties. That said, we think that talking to entrepreneurs struggling with the same problems will be a source of great psychological support.

At the time of checking, six businesses had been certified as GU business ventures, all of which passed a strict screening process. As per the conditions of the certification, the business should be based on intellectual property or knowledge obtained at GU. Besides this, the potential for future performance is closely examined, and the opinions of external specialists are also taken into account. We want to ensure that these six businesses achieve further growth and hope that they are enlisted at some point in the future. We hope they flourish as GU business ventures and make a significant impact in the resolution of societal problems.
 Companies certified as GU business ventures
 Photonic Edge Inc.
 Lukos K. K.
 GRC K. K.

Founder
Shintaro Hisatake
The first business venture to achieve GU-certification. Possesses technology for the visualization and measurement of high-frequency electromagnetic waves used in 5G/Beyond5G telecommunications and the onboard radar required by autonomous vehicles. Involved in product development, etc.



Representative director
Shota Asahi
An IT solutions business targeting mainly manufacturers in the Tokai region. Aims to leverage technologies such as image analysis, waveform analysis processing, AI technology, etc. fostered in labs by staff to resolve problems faced by businesses.

Representative director
Masahisa Sawada
Utilizes intellectual property of the radiology department of the hospital attached to GU's Faculty of Medicine. Develops healthcare-related products, contributes to raise the quality of treatment and promotes appropriate diagnosis through the support of healthcare professionals with technical guidance and remote diagnosis.


 e-NA Biotec Inc
 xenoBiotic Inc.
 GF Mille Co., Ltd.

Representative director
Yukio Kitade
Established a company to bring the world's first microRNA-based drugs to the market, based on results obtained by representative director Yukio Kitade during his work at GU. Patented miRNA-143 is an innovative drug candidate, set to broaden the potential for cancer treatment.

CEO
Toshihiko Sawada
Established to implement the software package "xenoBiotic" in chemical societies, that enables chemists to predict toxic potencies in chemical compounds, developed by a research group at GU's Faculty of Regional Studies

Representative director
Tokuhiro Chano
Striving toward drug discovery utilizing expertise and patents in nucleic acid and sugar chain chemistry generated at GU. Looking to the North American market as it develops products in collaboration with Solstar Pharma, a Canadian drug discovery business venture.

Certified GU Business Ventures are a driving force for Start-Ups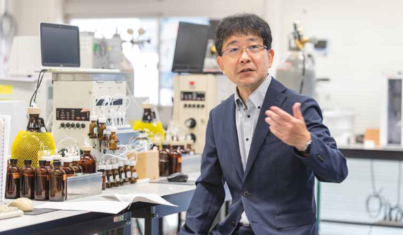 Scientific Advisor to GF Mille Co., Ltd.,
A GU certified business venture
Faculty of Applied Biological Sciences
Professor Yoshihito Ueno

GF Mille Co., Ltd., is a business venture created at Gifu University that promotes the development of medicines utilizing technology, expertise, and patents in the fields of nucleic acid and sugar chain chemistry.

The genetic information of organisms is conserved in their genomic DNA. This information is transcribed to messenger RNA, from which tens of thousands of proteins are synthesized. Such DNA and RNA are known as "nucleic acids," and research has been conducted on them as being carriers of genetic information. However, in recent years, there have been efforts to utilize nucleic acids as a new type of medicine in themselves, and they have garnered attention as next generation pharmaceuticals, along with low molecular weight and antibody drugs.

GF Mille selects RNA with sequences suitable for pharmaceutical use and synthesizes artificial RNA with chemically modified nucleotides. Thus, it strives to perfect RNA-based drugs that have fewer side effects. The company generates siRNA that acts as a brake, and utilizes techniques developed through my research. When administered to mice, relevant medicines excel in their ability to control the growth of ovarian cancer and inhibit the accumulation of ascitic fluid.

In February 2020, the company concluded a joint research contract with Solstar Pharma in Canada. During fall that same year, joint efforts led to an application to the Canadian Patent Office for a patent as an initial drug candidate for the anti-coronavirus agent siRNA-3XX. Additionally, in July 2021, new research to develop cancer treatments began as part of a project by the Japan Agency for Medical Research and Development (AMED).

Being a certified GU business venture is significant from the viewpoint of credibility outside the university. It also facilitates the influx of further investment and opens up access to a wide range of university facilities. While continuing to skillfully utilize GU support, we aim to soon be widely recognized as a global standard for nucleic acid drug discovery, and to thus realize growth similar to that of BioNTech or Moderna.

Internal links
Original sites
External links
File links