Utilization of crop yield data brings about a technological breakthrough, propels creation of platform for agricultural household support
*Information related to faculty members/students and graduate schools at Gifu University here are all that of the time of interviewing.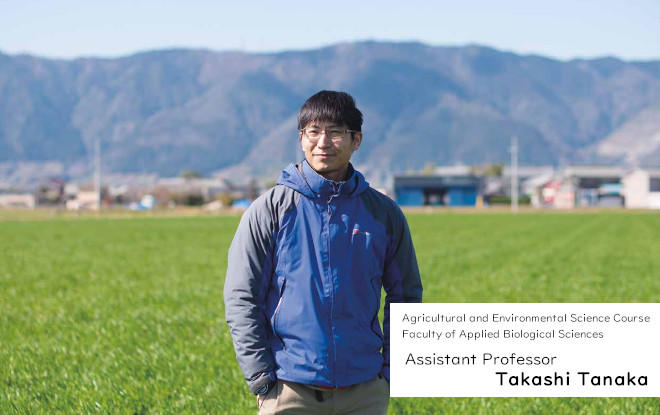 Joint precision agriculture (PA) research with farmers in Kaizu City, Gifu Prefecture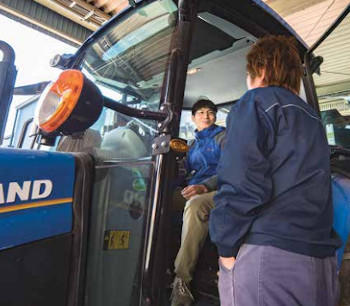 During my time as a student of agronomics at the university, I had the chance to conduct research on water quality improvement in Yunnan Province, China for a period of 2~3 years. There, I witnessed the overuse of nitrogen fertilizers by local Chinese farmers resulting in considerable environmental damage to the regional ecosystems including the eutrophication of groundwater, rivers, etc. induced by the massive discharge of nitrogen into the water ecosystem. In order to address the serious ecological threats seen up close, our research team embarked on a project to promote more sustainable agriculture among local farmers and help protect their regional ecosystems.
For our research work to be relevant and effective in China, it was deemed necessary to build trusting relationships with local officials and the community which led our team to make numerous field visits and engage closely with local farmers.

When I assumed my Assistant Professor post at the Faculty of Applied Biological Sciences at Gifu University, I decided that this position would offer me the opportunity to utilize my unique experiences in China to further advance agriculture in Japan. I had the great fortune to be introduced to a large-scale farm household in Kaizu City, Gifu Prefecture, one of the few local municipalities promoting high-tech, large-scale paddy farming in Japan. Since our introduction, both my research team and the farm household have been working closely together for two-and-a-half years toward implementing precision agriculture (PA) technology to harness stable yields and potentially maximize the production of quality crops of rice and wheat in the near future.

PA is not yet as well known in Japan as it is in the West, where this approach to farm management has already taken root. It is well documented that soil quality and fertilizer use affect crop growth and production. In PA, farmers rely on a wide range of scientific data minimizing the influence of these unstable factors in crop production.
Even recently, the idea of precision farming is beginning to permeate among a number of Japanese farmers (as in Western countries) who are already engaging in "smart farming" by utilizing robotics and information technology to optimize both the quantity and quality of crop production.

However, the immediate practice of PA is not easily adopted in Japan. In Hokkaido for instance, farmers operate self-driving tractors and other high-tech machineries to manage large fields, but they are all designed to ease the physical burden for farmers.
Although the goal of PA is to boost consistent yields of quality crops through extensive soil analyses, the main reason why the practice has not been adopted readily by Japanese farmers is the uncertainty whether the potential merits of PA technology is worth the high technological costs. To dispel such worries and convince growers of the real merits of PA, we have begun working closely with them to analyze the soils.
Bright future for Japanese agriculture: promoting advanced farming systems and new technologies
For starters, we carefully examined the relationship between crop production and soil quality. Most Japanese farmers assess the quality of their soil by taking soil samples from multiple spots in one field and mixing them together to make one uniform sample, but it only gives them a rough estimation of soil quality. Soil samples every ten meters apart were taken and compared with one another to obtain such indicators as soil location, soil properties, soil productivity, etc. Based on the data collected, additional fertilizers were then applied to enhance the soil and to determine the necessary amount of seeds planted.

However, in reality agricultural soil sampling on such a large scale, which demanded huge manpower and costs, was made possible only because it was part of a research project. Considering that, our team came up with the idea of incorporating a low-cost unmanned aerial system via drone technology as a method of monitoring and assessing levels of crop yield. Agricultural drones equipped with six sensors are now being used for research purposes from soil data collection, observation of crop growth to development of technologies for improvement of cultivation. We believe that the application of drones in precision agriculture will make relevant data more increasingly available for more farming households in Japan. In fact, some combine harvesters in use are already enhanced with automatic yield estimation features, providing data that will enable growers to better analyze soil health and assess crop yield and productivity. However, the challenge that surfaces includes the lack of Japanese farmers who are capable of using data in precision agriculture technologies. On the contrary, in Western countries, professional agricultural consultants offer specialist advice and information to help farmers enhance their productivity, and many local universities are aligned with farmers to jointly promote advanced agricultural technologies. Working for a regional university like Gifu University which has strong ties with our local communities, I feel a professional responsibility to create a support mechanism for local farmers (rather than a singular focus on research publications alone). It is my hope to continue to support Japanese farmers in achieving scale production in response to the formidable agricultural decline in many parts of this country.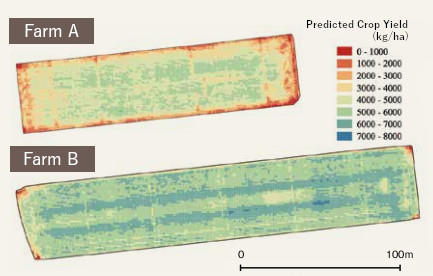 Aerial photos of crop fields by drones. By Artificial Intelligence (AI), the data collected is used to assess crop growth and apply precision fertilizer program for higher crop yields and quality crop production.

Internal links
Original sites
External links
File links