Measures to Promote Sustainable Tourism in Mt. Norikura- Insights from the evaluation of social experiments and the effective utilization of survey data
*Information related to faculty members/students and graduate schools at Gifu University here are all that of the time of interviewing.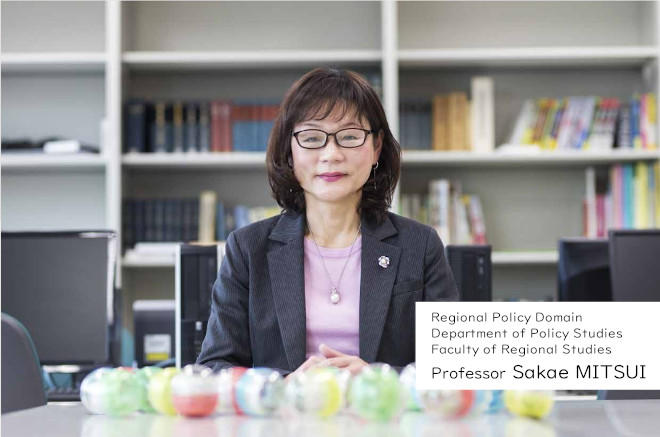 Conducting a social experiment with regard to the electric vehicle (EV) as a means of transportation to Mt. Norikura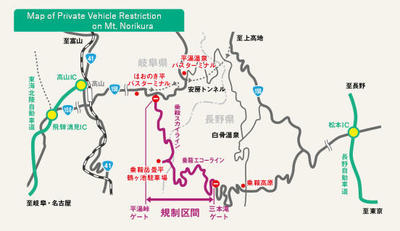 My specialty, econometrics is the consolidated study of economic models and mathematical statistics. Since I took up the new post at Gifu University, my research studies have focused on analyzing the business cycle in Gifu Prefecture and measuring economic impacts of the Liner Chuo Express1) on regional economies.
Then I joined a research project with the Gifu Prefectural Government in 2012 on conducting social experiments with regard to the electric vehicle (EV) as a means of transportation to the Norikura Skyline road in Takayama City.

Norikura Skyline, known as the "highest roadway in Japan" leading to the summit of Mt. Norikura offers a spectacular panoramic view of the Northern Japan Alps, and was opened to vehicular traffic in 1973. Mt. Norikura straddles the border between Takayama City in Gifu Prefecture and Matsumoto City in neighboring Nagano Prefecture. The skyline is open to public access from May 15 to October 31 every year, and its popularity used to draw approximately 500,000 visitors annually by private cars and tourist buses. Unfortunately, the increased tourism activities have resulted in some negative impacts to the natural environment such as increased vehicular congestion, growing nuisance from litter, waste and outdoor excrement, and negatively affecting the environment of Japanese rock ptarmigan2) and alpine flora. In 2003, private cars were excluded from Norikura Skyline in order to protect the natural environment. Since then, the number of visitors to Mt. Norikura has dropped by more than 65 percent, and the local economy which depends on tourism has suffered a great loss. Some local residents account for the decline in tourists to the restriction of private vehicles on the Skyline.

Under these circumstances, our research team made an attempt at a social experiment to introduce the electric vehicle (EV) to reduce environmental footprint in the hope of revitalizing the local tourism. This experiment began with a recruitment of participants and information-gathering. The participants first gathered for a talk to acquaint themselves with the rules and regulations of EV use on the Skyline road before taking an actual drive on an EV to Tatamidaira Parking Lot (near the mountain peak), where they enjoyed hiking.
In the first year of the experiment (in 2012), participants were exempt from paying any fees, except for a 2,000 yen charge (300 yen for environment-conservation tax, 1,700 yen for parking fee) at Tatamidaira Parking Lot. The occupancy rate of 3 EVs was 105%, and it turned out that 70% of the participants were from the local Gifu Prefecture. This observation brought to light another revelation of the real challenge of region-wide tourism promotion.

In the second year of the experiment, participants paid 1,500 yen each for administrative cost, and were given priority to stay at a local accommodation. It was revealed that the affordable fee and new selection method raised the out-of-prefecture participant rate to 60% (as evidenced by the increase in the number of people who stayed at local accommodations).

In the third phase of the experiment, the viability of a business tourism model was tested, participants paid 6,500 yen to cover administrative cost and rental car fees. As it turned out, the utilization rate of 3 EVs sharply dropped to 22%. The results of the experiment concluded that the main cause of the sharp drop was the high participation fee, and estimated that the merit of an EV-driven mode of transport on the Skyline road was offset by the high participation fee.

With respect to environmental protection and conservation, our experimental findings also revealed some reports of small offenses by participants in the first year, but no reports of violations were observed during the second and third year. Pre-participation talks to familiarize the participants with the rules and regulations for EVs accounted for heightened awareness of environmental values and protection thus work to deter people from damaging actions on the environment.
1) Liner Chuo Express :The first phase of the Liner Chuo Express project will connect the two major cities of Tokyo and Nagoya, with eventual plans for extension to Osaka in the next phase.
2) Japanese rock ptarmigan :Japanese rock ptarmigan (Lagopus muta japonica) is one of Japan's endangered bird species and can be found only in and around the mountainous areas of the Japan Alps.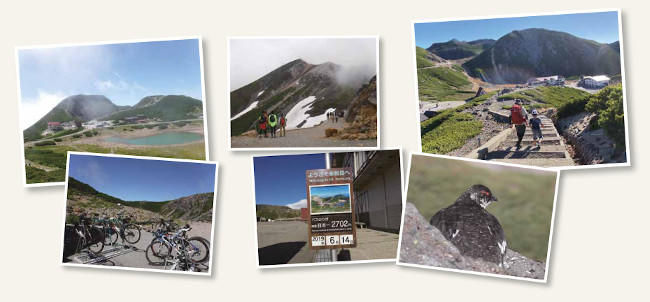 Focus on popularity of bicycle hill climbing on Mt. Norikura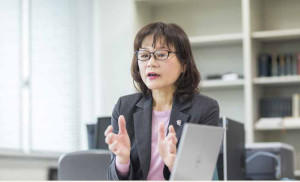 In 2015, our research team conducted a related EV experiment beyond Mt. Norikura region, but soon realized that we needed a new approach to our research. In July 2016, as an alternative to EV experiment, we began to focus on bicycle hill climbing on the Norikura Skyline. Whereas the number of tourists has continued declining after the roadways were closed to private vehicles, the number of bicycle hill climbers has been increasing in recent years. We expect that this trend could help bolster sustainable tourism in the region.

In parallel to the rise in popularity of "cycle-hill-climbers" nationwide, the number of bicycle hill climbers to Mt. Norikura have also increased. They travel through the breadth of Japan's elevated peaks by bicycle seeking a sense of thrilling accomplishment in scaling to the top. Since the inception of "Norikura Skyline Cycle Hillclimb" race in 2004 that takes racers through Japan's highest paved roads, this annual competition has drawn large crowds of participants and spectators alike to the region.

To promote local economic viability and spending among bicycle hill climbers, our team came up with another social experiment with the idea of using a popular Japanese capsule toy called "gachagacha (or "gacha"). Gacha incur no operational costs at all once they are installed. The gacha named "Norikura dake Gacha"3) (priced at 200 yen per crank) were set up at the entrance of Norikura Skyline and on the mountain top. Each dispensed capsule contains a commemorative tin badge, a meal voucher for use at eateries on the mountain top, a road rules for bicycle hill climbers and a local area map to encourage visitors to further explore neighboring towns. This experimental project, which took off in August, 2016, could not have been realized without the great support and cooperation from local business operators and the municipal governments. Initially, we prepared 600 capsules and set up the gacha at three separate locations: Hirayutoge Pass Entrance Gate (entrance into the Skyline via Hirayu Pass), Tatamidaira Bus Terminal (final stop at the summit) and "Ginreisou" Inn. Two sets of five and ten varieties of commemorative badges inside the capsules were stocked in dispensers installed at the Entrance Gate and the summit respectively to encourage visitors to use them at both sites. In addition, the gacha installed conveniently near Tatamidaira bus stop attracted visitors utilizing the shuttle services. To our surprise, all the capsules were completely sold out in just a month and a half after they were introduced, signifying that these commemorative badges were a hit among visitors who were drawn to try out their luck at obtaining their most favorite items. The following year (2017) saw more local business operators "jumping on the bandwagon."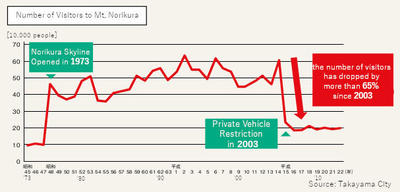 Another social project that our team undertook was to promote local dishes served at the summit. Part of the idea of "sustainable tourism" is the conservation of traditional cultural values of the community and local food is certainly one of them. The idea of coming up with a new dish called, "Japan's highest miso hotpot: Sukuna Hotpot" by using a local vegetable called "Sukuna Kabocha (pumpkins)" was unmistakably an instant success. In 2018, a restaurant in Tatamidaira took over this project and began serving the Sukuna Hotpot cooked in a unique Japanese cast iron pan served with side onigiri ( rice balls). Beautiful promotional posters were also created to draw more customers.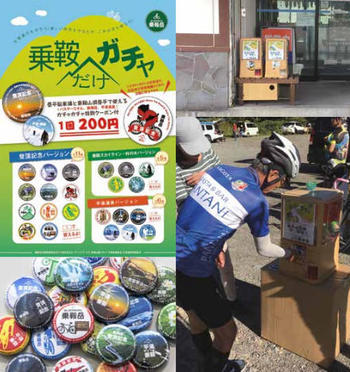 From the third year of our social experiment, we set the goal of making "gacha" a viable community project for sustainable regional economic revitalization. Mediation by Hida Norikura Tourism Association made it possible for eight business operators to come to a consensus on our gacha experiment, which were endorsed through gacha promotional flyers. Later, two business enterprises at Tatamidaira and a local organization volunteered to help fill the capsules with the badges and flyers. A new regional area map designed specifically for the capsule was created to increase the coverage and feature other interesting attractions such as hot spring resorts, sunflower fields, and other tourist spots aimed at enticing bicycle hill climbers and visitors to explore them. Badge designs were also updated every year to add to their newness for repeat visitors. All these efforts led to a sustainable annual number of badges sold at approximately 2,600. From 2019, private enterprises took full control of the whole gacha business operations, and our business model proved to be very successful and beneficial in strengthening the quality of local jobs created and supported by local tourism.
3) Norikura dake Gacha: "Norikura dake Gacha" is a play on the Japanese word (pun) "dake" which can mean both "mountain" and "only."
---
●The Social Experiment by using a Japanese capsule toy 'gacha'.
In the first year of our social experiment, we set up "gacha" at Norikura Tatamidaira Bus Terminal, "Ginreisou" Inn and Hirayutoge Pass Entrance Gate. Gacha capsule contains a commemorative badge, a meal voucher for use at eateries at the summit, and a road rules for bicycle hill climbers. Each capsule costs 200 yen. These items attracted many bicycle hill climbers who travel extensively around the area, raised awareness of national parks rules and bicycle safety.
Summary
2016
2017
2018
Period of
Experiment
Sunday, Aug.21 - Friday, Oct.21
Saturday, Jul.1 - Sunday, Oct.22
(Hirayu: till Wednesday, Feb.28)
Tuesday, May 15 - Sunday, Oct.21
(Hirayu: till Friday, Nov.30)
Number of
Capsules Sold
Norikura  600
Norikura 2,124
Hirayu   578
Norikura 2,130
Hirayu   534
Key Features:
Target visitors: bicycle hill climbers traveling to Mt. Norikura
A capsule contains a commemorative badge, an area map, a road rules for bicycle hill climbers
Promote extensive travel with a supply of ample tourist information

Striving for tourism promotion and environmental conservation with community residents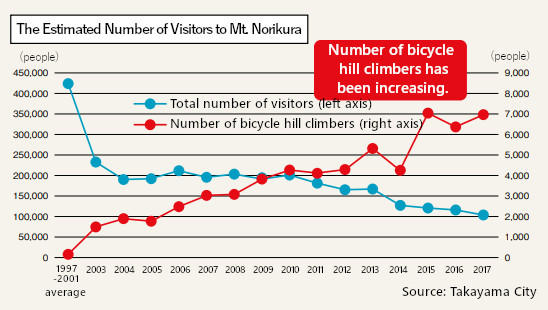 In the summer of 2018, our team devised a new program called, "Local Exploration: Unravel the Mystery of Mt. Norikura" targeting parents and children. Participation fee was set at 500 yen per family. The concept of the mystery game revolves around participants finding "key words" at specific points and solving riddles, much like the idea of a "treasure or scavenger hunt." Combining elements of orienteering and problem-solving, children can rediscover the outdoor beauty and magnificent nature of Mt. Norikura. Through this program, we would like to encourage local children to visit by shuttle bus and explore the mountain region more and appreciate the natural wonders that the mountain has to offer.

Thanks to the joint partnership with the municipal city of Takayama, event flyers are under preparation for year-round distribution in local elementary schools to introduce the "Local Exploration" program.

Moreover, a new initiative is also underway, the "Norikura Skyline Time Trial" as a means to promote the hill climb course through the highland as a holy trail for adventurous bicycle hill climbers. In this program, they can purchase IC chips at a capsule toy, gacha at Hirayutoge Pass Entrance Gate. Once the IC chips are scanned, they can keep track of their time and rankings climbing uphill, which they can then obtain a record of by uploading them from the website when they scan their QR code at the summit destination. Although there are still many challenges such as safety issues for bicycle hill climbers and collaboration with bus operators, we anticipate more visitors to the Skyline and Mt. Norikura in coming years.

The driving force behind my involvement in regional design projects is the value I derived in giving back to the community in the form of practical solutions toward sustainable local tourism. Local community revitalization is a way for me and the students in my laboratory to repay our appreciation to the countless number of people who have supported and contributed to our experiments. Youngsters are often asked to offer their opinions and fresh ideas concerning tourism promotion particularly in rural places where depopulation is rapidly progressing. My students are creating a "walking trail map" of Hirayu Hot Spring resort detailed with tourist attractions and online social media posting updates, images, and reviews. Giving back to community our success, developing trusting relationships with local residents and building sustainable framework together... I believe these are the very essence of regional design projects.
---
●Measures to Promote Sustainable Tourism
Local Exploration: Unravel the Mystery of Tatamidaira

As part of our efforts to increase the number of people visiting Mt. Norikura, we implemented a program "Local Exploration: Unravel the Mystery of Tatamidaira." Participation fee is 500 yen per family. The concept of the mystery game is for participants to search for "key words" or clues at specific spots in order to complete a crossword. The aim of this program is to target local families from Takayama City to increase visitation and shuttle bus ridership.
Internal links
Original sites
External links
File links