University students in the Tokai region compete to exhibit excellence in entrepreneurship Ranked 3rd in "Business Competition" Challenges beyond my limits
*Information related to faculty members/students and graduate schools at Gifu University here are all that of the time of interviewing.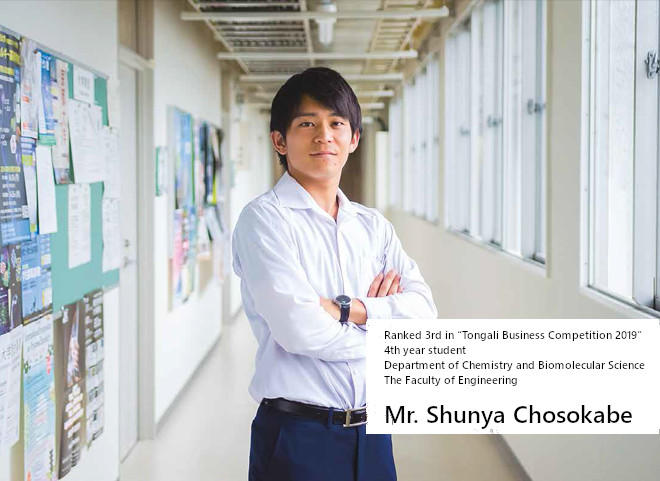 My participation in a special class provided strong motivation to start a new business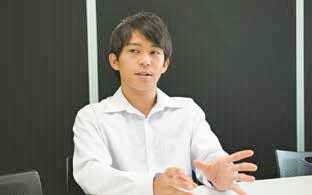 I was not quite interested in starting a new business, but things changed when I attended the "Innovation-type Internship I" class in the second semester of my third year at Gifu University. In the class, students study marketing, problem-solving, fundraising, and other basics to start a new business.

One day, my mentor advised me to take part in the "Startup Weekend Nagoya" competition for future entrepreneurs. After I attended the class, I became more interested in startup businesses, and decided to take part in the competition.

On the day of the competition, I was very surprised to see that many of the participants were from the corporate world.
We were divided into small groups and started to simulate the creation and operation of a new business. My team chose to simulate the establishment of a new company dealing with the development of new apps, but within no time, I realized how little knowledge and expertise I had; thus, I could not be a useful member of my team. However, trying not to be overwhelmed by the situation, I vowed to do whatever it takes to gather necessary information for the development of new apps.
First, I went out into the streets and asked people about the types of apps they wanted to try or use in the future. In retrospect, my participation in the competition gave me enormous joys, excitement, and hardships.
Later, I participated in the "Tongali Business Competition 2019." This is the event for university students in the Tokai region (central part of Japan) to showcase their innovative business start-up plans.
Tongali Project?
The Tongali Project ("Tokai Network for Global Leading Innovators" comprises five universities: Gifu University, Nagoya University, Toyohashi University of Technology, Nagoya Institute of Technology, and Mie University) provides university students, graduate students, doctoral students, teaching and academic staff members, and alumni in the Tokai region with entrepreneurship education to cultivate next-generation leaders capable of starting a new business. The Tokai region, one of the manufacturing hubs in Japan, has long been witnessing active collaboration between business and academia, but few business ventures have emerged from its universities. Thus, a new fund was created for five universities in the Tokai region to develop and support human resources capable of creating new businesses. With the use of this fund, the Tongali Project was started in 2016; its activities include offering students venues for engaging in various programs/projects, financial support, organization of events, and sharing information on business ventures. The project also provides education for prospective entrepreneurs to prepare and implement their business plans.
Tongali Business Plan Competition

The Tongali Business Plan Competition targets all undergraduate, postgraduate, and doctoral students in the Tokai region and Osaka University. In the competition, they compete on the basis of their new technologies, ideas, and so on. Participants with outstanding business plans will be presented various awards and prize money by the sponsoring organizations.

Admit my limits and pursue possibilities
Drafting a start-up business plan is not limited to producing new products or services. We need to prove that our plans are feasible in terms of profitability and growth. To seek victory in the competition, I went to the "Tongali Project" entrepreneur development school. Students at the school were given opportunities to listen directly to the stories/experiences from professional entrepreneurs. I was particularly impressed with a young entrepreneur, of my age, who had launched his own business.

At Gifu University, I joined the laboratory of Professor Akiyoshi Takeno, from the Faculty of Engineering. He is a pioneer in creating the world's first special fiber called "nano-porous fiber." I thought if I could deepen my understanding of this new fiber, I may be able to draft a business plan to bring a totally new product into the market.
I took notice of a technology called "crazing" for inserting functionalized molecules into fibers. I thought I could create and commercialize mosquito-repellant cloth by using this technology. I imagined that it would not only prevent malaria infections in developing countries, but also help farmers working in the fields defend themselves against mosquito bites. If people in the apparel business are convinced of the cloth's profitability and bring it to the market, my business plan would prove to be financially sustainable; this is because the profit would come from the cloth's license fees.

In the first screening for the "Tongali Business Competition 2019," my business plan ranked first among 18 teams, and I qualified to participate in the competition.
It was the first time in my life that I made a presentation in front of so many people (approximately 100). Although I missed bagging the first prize, reviews from judges and representatives of co-sponsoring companies and organizations were fairly good, and my plan is now becoming a reality.
Starting a new business that is highly productive, profitable, and sustainable is a real challenge. The competition made me aware of my relative inexperience and immaturity, but with the motto, "Not now, when?" always in mind, I want to continue pushing my limits and become more confident about myself. Starting a new business is already an option in my future business career.

One year ago, I could not even imagine what I am today, but if I can easily predict my future, it is no longer the future I am truly looking forward to. I know that there is no such thing as "meaningless failure" in life. Every incident that took place or may take place will certainly become an invaluable asset to us throughout our life.
I do not want to hesitate to take on any challenges or tackle any problems head-on because I know that every such experience will broaden my views and perspectives in the years to come.
---
Throughout my teaching career, I have never met a person like Mr. Chosokabe, who deeply understands, and seriously began to think about starting a new business during his fourth year at the university. It may not be easy for him to tread an entrepreneurial path, but I do hope he will. In the future, I want him to follow in the steps of people in the West who are working both as technical experts and business managers.

Department of Chemistry and Biomolecular Science
The Faculty of Engineering
Professor Akiyoshi Takeno
Internal links
Original sites
External links
File links