My challenge: to become a dancer and boatwoman. Real talk about my experience in English in the Age of the Internet.
*Information related to faculty members/students and graduate schools at Gifu University here are all that of the time of interviewing.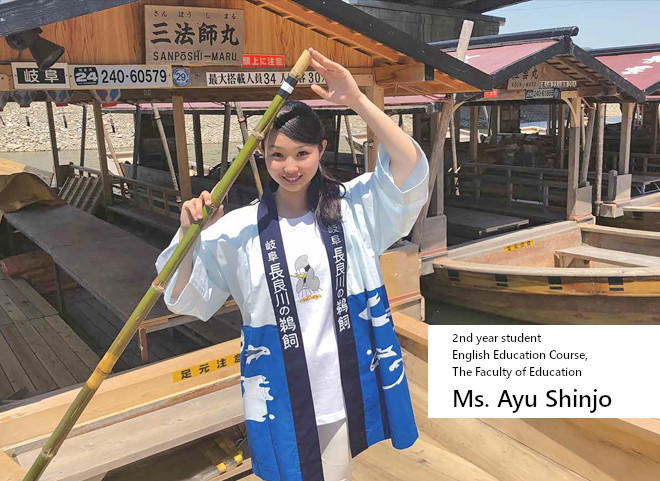 My study in the United States sheds light on my lack of knowledge about Gifu, my hometown.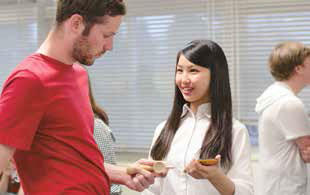 I am studying English at the Faculty of Education, Gifu University. English was not the subject I loved most during my junior and senior high school days. Things changed when I met a wonderful English teacher at senior high school. In class, she often talked about interesting episodes or news happening from all over the world.
Fascinated by her stories, I began to think about studying English at university and going abroad to see the real world.

In my first year at Gifu University, I took part in a short-term summer school program in my faculty, and went to Northern Kentucky University.
During my stay, I was invited to visit a local elementary school. When I visited it, I was very surprised to see how classes were conducted there.
In Japan, children sit down and quietly listen to their teachers, but in the United States, children are allowed to sit wherever they like (some sit on a couch or use cushions). Despite such a free environment, I saw not a single child slacking off. Rather, every child was absorbed in his/her individual assignments.

While staying in the U.S., I encountered many unexpected episodes, but they all helped me see things/situations from a fresh perspective. For example, I realized how little I knew about Gifu, my hometown; I was often lost for words when asked about Gifu's people, culture, traditions, and so on.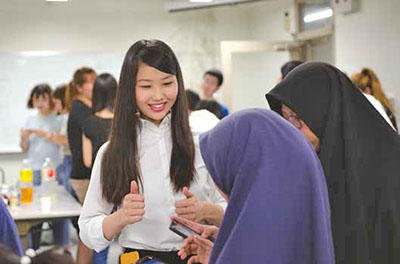 Since the second semester of my first year at the university, I have been working as an exchange lounge monitor of the Center for Japanese Language and Culture, helping the international students studying at the university. However, I still strongly feel that my knowledge of Gifu and Japan is very limited.

My challenge: to become a dancer and boatwoman
Talking about my real experience in English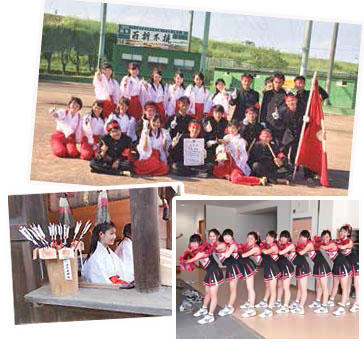 I love dancing. I started figure-skating when I was in elementary school. In addition, I was a member of a cheerleading team at senior high school.
One day, I came across a job advertisement in the "Gifu City Newsletter" for recruiting people interested in dancing on a small boat before the commencement of the traditional Ukai cormorant fishing on the Nagara River (Gifu prefecture).
Dance performances on a boat started in 1965. Six female dancers in summer kimonos perform a traditional Japanese dance for spectators coming to see cormorant fishing
(*spectators are on a different fishing boat for viewing).

I quickly made up my mind to apply for the job in the belief that it would give me a great opportunity to learn more about Gifu.

Later, I ended up with applying for a "boatwoman" job as well. When I was told by an official of the Gifu City Ukai Ferries Boat Office that I had passed the dancer test, I was asked to apply for a job of a "boatwoman" as well. At first, I could not imagine a woman maneuvering and rowing a boat, but the official told me that approximately 10% of the rowers are boatwomen, and they include university students of my age. While in junior high school, I was a long-distance runner, and I am still confident about my stamina and physical strength. After convincing myself that I was qualified to do the job, I applied for it.

The training was very hard for me because I had to simultaneously master the dance steps and moves, as well as the boat operations. My schedule was soon filled with training sessions. Though I quickly mastered the dance steps and moves, I had a hard time familiarizing myself thoroughly with the art of classical Japanese dancing--a prerequisite for becoming a professional dancer.
On the day of my debut as a dancer and boatwoman, I was very nervous because I was surrounded by media reporters who had come to telecast my performances. In retrospect, being a dancer and boatwoman really inspired me to deeply study the time-honored Ukai fishing, one of the treasured traditions of my hometown.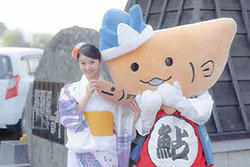 Many foreign tourists come to see Ukai every year, and my dream is to explain Ukai fishing to foreign visitors in English. To achieve this goal, I am studying very hard in the university's English-speaking classes. I hope my English explanation of Ukai will raise the level of interest of visitors and give them a sense of satisfaction while visiting Gifu and Japan.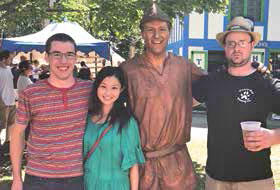 Almost any type of information is available on the Internet these days, but real meaningful experiences will come from actions we take. If I become an English teacher, I will tell my students about things such as what I saw, did, and thought, just like my high school teacher. I believe that such real stories will inspire the next generation to gain deep insights into world affairs in the future.
Internal links
Original sites
External links
File links