Our aim: a new global standard. Gifu University's smart mold will change conventional manufacturing.
Gifu University Innovation Hub for Smart Mold Processing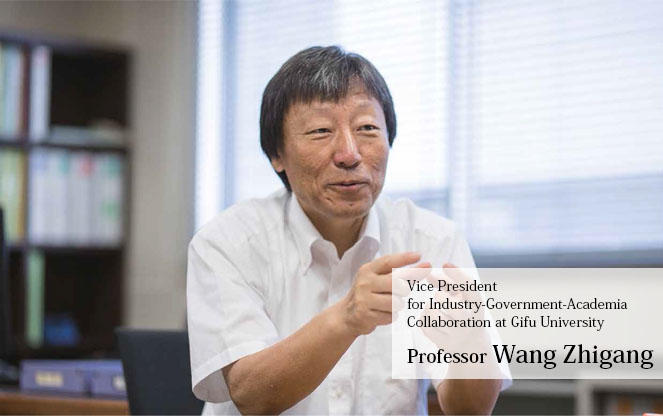 A system that analyzes data received from the mold and automatically adjusts the processing conditions, etc. The development of this world-first production system is propelled by the joint efforts of Gifu University and private companies.
The system uses highly efficient production systems to support the industry in regional areas where the population is in sharp decline.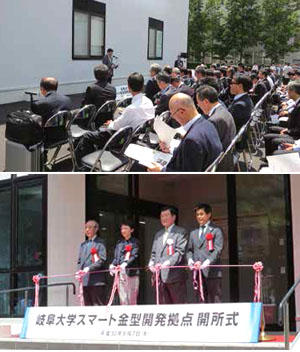 In April 2018, Gifu University reorganized its former Center for Advanced Die Engineering and Technology to launch a new Center for Advanced and Smart Die Engineering Technology (G-CADET). The Center established a new development site as part of the efforts for the Gifu University Innovation Hub for Smart Mold Processing enterprise, which was selected as a program for developing regional science and technology bases by the Ministry of Education, Culture, Sports, Science and Technology (MEXT). We aim to build the world's first smart production system through joint research with private companies.
Manufacturing in Japan is currently standing at a turning point. With a shrinking productive population, the development of highly efficient production systems is essential for regional economic growth. Given this, Gifu University has turned its attention to the field of molds, where it has long furthered research and development hand-in-hand with private companies. By using the latest sensing technology and data analysis, we have begun creating next-generation production systems using smart molds that are autonomous and require fewer operators.

Die and molds are one type of production equipment that is essential for the manufacturing of vehicles and many other items. The Tokai region, where Gifu University is located, is particularly known as one of the best manufacturing clusters in the world. The mass production of goods uses molds for many things. The production system using smart molds that we are researching has sensors attached to the molds and analyzes the data received from them. It then feeds the analysis results back to the machine that moves the mold to enable autonomously optimized production. No matter where you look throughout the world, you will not find any cases of smart dies and molds being used at a production site. Private enterprise has already moved into research, but we believe that this is the first trial in the world of a university or other public institutions and private companies making use of their respective specialties and conducting joint research as a single organization.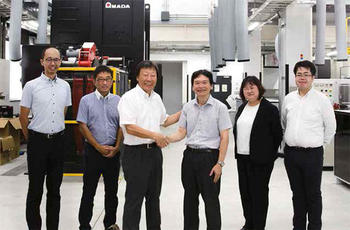 Molds used to be defined by knowledge and technology being drawn from experience, which meant everything to the field . This includes some excellent results, to be sure, but reanalyzing the data may allow the discovery of previously overlooked problems and the creation of more optimal molds. Private enterprise also holds expectations of formulating revolutionary production processes different from before if they can establish a method of data analysis.
Research into smart molds has barely begun, and analysis methods have not been established; we are still looking for clues. For example, when someone is ill, the doctor must investigate which of the multiple data--temperature, blood pressure, and the like--relates to a disease to determine whether the patient has a disease. Only with this knowledge can the doctor identify what to measure. It is the same with smart dies and molds. First, we acquire and organize all kinds of data and examine which data should be measured and which are not needed. Only when we can predict product faults from the minimum data, the possibility of commercialization will come to emerge.

Fundamental research to transform the industry, the likes of which the world has never seen.
Research at the center is conducted by first-year master's degree students who entered graduate school this year. The students belong to the Graduate Schools, and they can graduate without being involved in research for the center. However, the center requires involvement in research separate from the research topic for their master's thesis conducted simultaneously, and students must also present at international conferences and take part in long-term internships. This imposes a considerable burden, but the students are nevertheless all keen to learn, so each is extremely willing and highly appreciated by people in private companies.
If data collection and analysis proceeds smoothly, we believe that hints of data analysis methods will be apparent within 12 to 18 months. This is fundamental research that is extremely advanced at a global level, and it should have a significant impact on the industry. Our ultimate goal is building the world standard for smart molds. In the field of molds, which underpins the world of industry, a world standard is born from the outcomes of Gifu University's research. Just thinking about this possibility makes us excited for the future!
The smart production system of the Gifu University Innovation Hub for Smart Mold Processing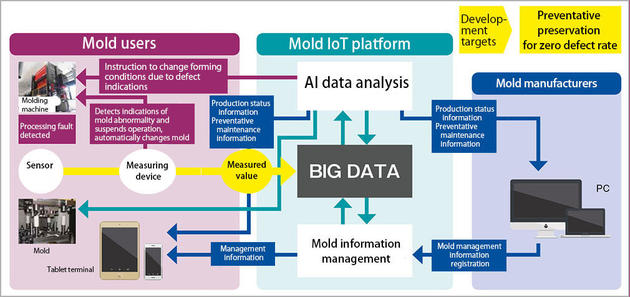 (Click to enlarge)

Interviewing of the Center Director
Growing to support manufacturing in Tokai region while valuing continuity.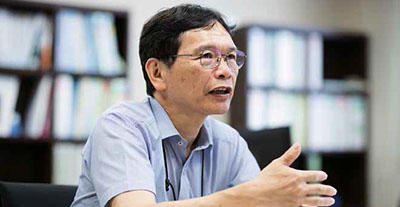 Director of
Center for Advanced and Smart Die Engineering Technology
Professor Minoru Yamashita
Organizing seven research teams for joint development with private companies.
At the Gifu University Innovation Hub for Smart Mold Processing, Gifu University, companies and research institutes cooperate to make molds, pressing machines, injection molding machines, and the like smarter. Furthermore, we aim to commercialize a smart production system that links these with IoT platforms for collecting and analyzing data, captures indications of molding defects, and autonomously adjusts molding and processing conditions.
The first floor of the newly built hub facility secures space for installing large experimental equipment and space for building mold preservation systems. Additionally, on the third floor, we have installed a CAE (computer-aided engineering) laboratory to simulate, for example, various types of processing and structural analysis. We also have a server room and develop databases to combine the information collected with sensors and the results of a range of materials tests. We have established equipment allowing us to perform everything from mold sensing to molding, big data analysis, and autonomous control of molding machinery in series, and our profound knowledge of production lines in private companies is one of our strong points.
Developing a production system using smart molds involves many tasks, and it is necessary to bring in specialists in a range of fields when proceeding with research and development. For this reason, we have organized seven research groups with the participation of over ten companies in and around the Tokai region. The two laboratories that specialize in sensing and data collection and analysis provide technology covering all groups, and research teams working on pressing, forging, and injection molding work on research and development on their topics. (See the figure below.) We believe that it is rare for a university and several private companies to engage in research with such close collaboration.
The benefit of data analysis using AI is that it can illuminate new relationships between different data elements without being tied down by existing concepts. Everyone at the private companies is full of expectation for the discoveries and hints this will produce. As the participating parties include many global companies that have expanded their business around the world, our goal is to develop a world standard in the field of smart dies and molds ahead of Europe and North America. To do so, we must first acknowledge continuity as important. Because we are a research base that claims to work hand-in-hand with the community, we want to become something of a refuge offering assistance in production technology in the Tokai region and to contribute broadly to manufacturing here.
Research System of the Gifu University Innovation Hub for Smart Mold Processing

 (For more details, please click each group and laboratory.)

Establishing structures to encourage joint research and development to build a new "smart production system."
Sheet Metal Forming Group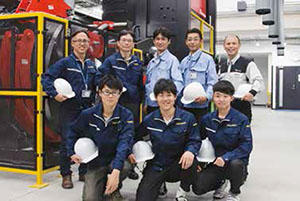 The corporate members
Pacific Industrial Co., Ltd.
Amada Machine Tools Co., Ltd.
The corporate members are Pacific Industrial Co., Ltd. (head office: Ogaki City, Gifu; manufacture and sale of automobile parts, electronic machinery products, etc.) and Amada Machine Tools Co., Ltd. (head office: Isehara City, Kanagawa; development, manufacture, and sale of cutting machines and tools, press machines, etc.), while teachers and students from the Department of Mechanical Engineering participate from Gifu University.

To resolve the unending topic of balancing weight reductions and safety in vehicles, it is highly effective to use practically formed items made from high strength metal sheets. However, these kinds of metals are difficult to work with, and it is hard to ensure accuracy in the pressed items, with dies often incurring damage.

This research group deals with the sheet metal forming process for high strength metals. We aim to develop metal forming dies and pressing machines that use AI to process signals and various data from sensors attached to the dies, load, and other signals obtained from the pressing machine, capture indications of faults, and automatically correct the manufacturing conditions, thereby preventing defective products. Global companies with production locations in other countries tend to use locally sourced materials that have different characteristics to domestic products, which results in longer start-up times for production lines. Making dies and presses smarter will contribute to resolving these kinds of situations.

Professor Minoru Yamashita

Forging Group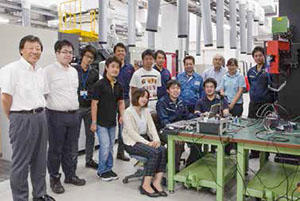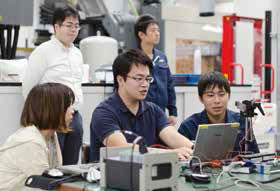 The corporate members
Denso Corporation Ltd.
Chukyo Ltd.
A blade kitchen knife is an essential goods for everyone in daily life. Seki City is well-known as home to cutlery production, but do you know how they are made? Traditionally, they were made by a process called forging where steel heated to high temperatures is hardened many times to shape it and improve its strength. Now, this has evolved into forging, where metal is processed using dies, and it is used for automobile parts and many others.

Dies must withstand pressures of 2,000 MPa when forging. A pressure of 2,000 MPa is equivalent to holding a large truck up with a fingertip, and nobody knows what happens inside the molds during processing. Our team aims to build a production system that can obtain information about the inside of the dies under such harsh conditions by sensing and to identify and control factors caused by changes in the product to produce good products safely continually.
Our partner companies are Denso Corporation and Chukyo, Ltd., which are from the Tokai region. Denso supplies automobile parts around the world under the slogan, "the desire to deliver a future with growing smiles to the earth, to society, to all people."


Chukyo produces forging dies, mainly for automotive nuts and bolts. We have two students who participate in this team and is responsible for sensor measurements. The students apply the substance of their classes to date and hold discussions with technicians from the partner companies to perform their work. We provide practical education, where students see, hear, and feel when learning advanced manufacture.

We are currently progressing with processing and sensor measurement trials. We will work with the data analysis group, evaluate and analyze temporal changes in measurement data with the passage of time, and establish smart production systems.

Professor Wang Zhigang

Injection Molding Group1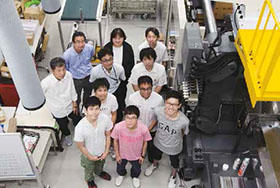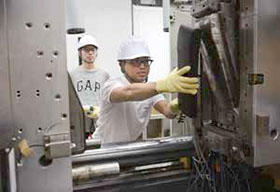 The corporate members
Kojima Industries Corporation
Toshiba Machine Co., Ltd.
This group aims to develop a production system using the Toshiba Machine injection molding machine (clamping force: 550 t) that can offer short turnaround development of molds that do not create molding defects, and that can capture indications of molding defects in products and autonomously adjust molding conditions. Until now, "molds" and "injection molding machines" were usually handled from experience as standalone equipment, but then the problems of the quality of the raw material resin pellets and the equipment environment are added to this.
Kojima Industries Corporation, a partner with the university, began joint research in 2016 and we are working on research using inspection molds for molding defects in automobile interior and exterior finishing parts.


We also implemented a small-format injection molding machine from Toshiba Machine Co., Ltd., a machine tool and molding machine manufacturer in 2017, and we are researching the acquisition of molding machine data and its interpretation and moving forward with research and development in this project as a three-way team.
Students from the university share roles in the three broad fields of molding and pass/fail checks imitating mass production, data sensing, data standardization, and data analysis and learning. Each field is rich with elements for research and development and they all present research topics closer to practical learning and serve as a model for engineering education at university.
In this project's future lies a contribution to industry, and we are making efforts to send forth autonomous injection molding systems into the world.

Associate Professor Yoshihiro Inoue

Injection Molding Group2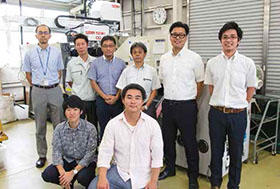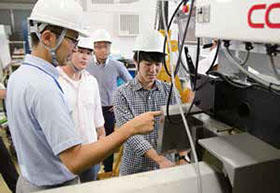 The corporate members
Omron Corporation
Gifu Tadaseiki Co., Ltd.
Injection molding is an efficient mass-production method for manufacturing resin and rubber tangible objects and a fundamental technology that upholds modern society. When you hear "injection molding," does it make you think of the universally familiar car bumper? What we work on are not big, visible parts like these, but tiny, hidden parts incorporated into smartphones and other devices. We aim to build a smart production system that can control equipment and molds and continue stable production of good products by using various sensors to acquire data on the phenomena that occur within the molds to more accurately make these kinds of parts, to learn about the molding status, and to identify factors that cause changes in the products.

Our partner companies are Omron Corporation and Gifu Tadaseiki Co., Ltd. Omron manufactures many electronic parts and devices and wields accurate injection molding technology to produce the parts used in these. The company aims for factories where a range of human resources can thrive through "harmony between human and machine." Gifu Tadaseiki is a leading mold specialist manufacturer in Gifu Prefecture and manufactures about 500 molds each year from the small to the large. Gifu University has two students who participate in this process and is responsible for sensor measurements. The companies serve as a site for practical education where the students apply the knowledge obtained in their classes to date and work with technicians from the partner companies.

Professor Hiroyuki Kosaka

Injection Molding Group3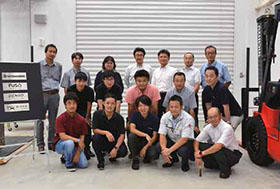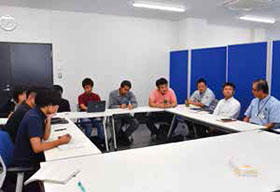 The corporate members
Gifu Tadaseiki Co., Ltd.
Denso Corporation
Fuso Machine Works Ltd.
A mold may look like just a rough lump of metal, but to mold users, it is a key tool that greatly affects productivity. We believe that in a human society that cycles through production and consumption, the use of good molds to produce efficiently is important for helping society to continue for longer. However, the fact of the matter is that, in various industries, from automobiles to housing facilities, defects in the parts that make up products cause malfunctions, requiring recalls, and these are then handled with enormous expense and labor. It is also a fact that the international competitiveness of the Japanese industry is in a gradual decline, and we need to develop new technologies and acquire strong technical skills ahead of the rest of the world to compete globally.

To resolve these issues, Gifu University, Denso Corporation, Fuso Machine Works Ltd., and Gifu Tadaseiki Co., Ltd. gathered at the Innovation Hub for Smart Mold Processing and united as a single team. Our team aims to discover the physical phenomena in injection molding one by one and to build a "molding system that cannot make anything but good products" that automatically senses molding defects and faults in the molds or molding machine during injection molding and resolves the problem by autonomous control. The purpose we are working towards is the effective use of such a system in industry.

Professor Asami Nakai

Sensing Laboratory / IoT Platform and Data Analysis Laboratory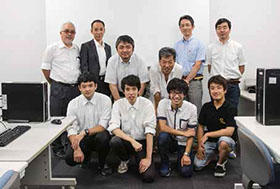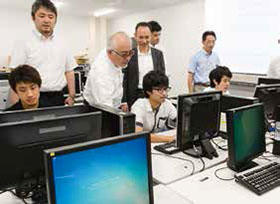 The corporate members
Murata Machinery Ltd.
Denso Corporation
Yamanaka Eng Co., Ltd.
Futaba Corporation
UEL Corporation
Uniadex, Ltd.
In the current technological revolution, which has been called the fourth industrial revolution, machines have incorporated machine learning, IoT and other information technologies and advances are being made in autonomous control, where machines make judgments for themselves based on measured data, and in production linking multiple machines. The Sensing Laboratory and the IoT Platform and Data Analysis Laboratory conduct research contributing to the advancement of production using dies and molds--which are the foundation of manufacturing--from the perspective of measuring technology and information technology.

The partner companies of the Sensing Laboratory are Murata Machinery Ltd., Denso Corporation, Yamanaka Eng Co., Ltd., and Futaba Corporation. Each of these companies provides sensors and measuring systems based on their unique technologies.
The partner companies of the IoT platform and data analysis laboratory are Uniadex, Ltd. and UEL Corporation. Uniadex has recently provided equipment diagnostic services using IoT/machine learning and AI. Conversely, UEL provides domestic CAD/CAM solutions specializing in the field of die manufacture, which is the foundation of the manufacturing industry.



Five students from Gifu University (one of whom is a doctoral candidate) participate in this process: they analyze data measured by the Sheet Metal Forming, Forging, and Injection Research Groups and work with each of the groups to improve production systems based on the analysis results. In addition to learning from and making use of the unique technical skills and experience the partner companies possess, cooperating across the research groups helps in raising technicians with broader perspectives.

Associate Professor Kohei Furuya
Internal links
Original sites
External links
File links