Strong links with the Gifu Central Livestock Hygiene Service Center. Opening the first joint facility in Japan, towards the construction of a new model for saving livestock.
Education and Research Center for Food Animal Health, Gifu University (GeFAH)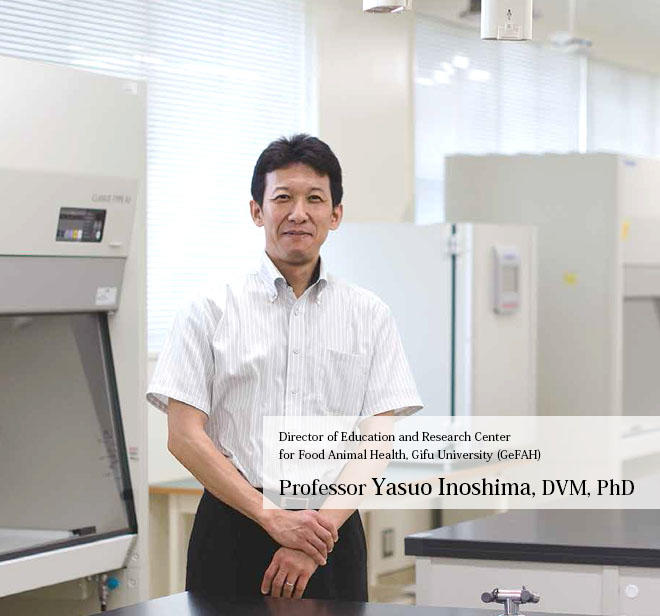 Providing a place for students to extend their understanding of farm animal veterinarians.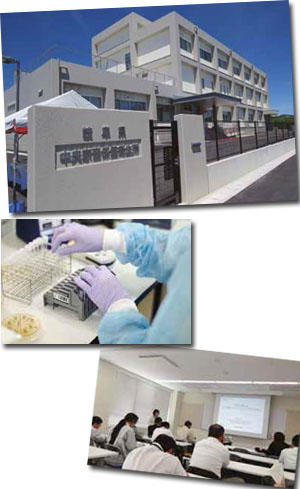 The Education and Research Center for Food Animal Health, Gifu University (GeFAH) affiliated with the Faculty of Applied Biological Sciences, Gifu University, which I am the director of, was established in April 2015.
It aims to collaborate with Gifu Prefecture in promoting education in livestock hygiene, academic research into livestock illnesses, disease control, sanitation, and hygiene strategies for livestock. Later, in June 2017, the Gifu Central Livestock Hygiene Service Center relocated to the Gifu University campus. The third floor of this building houses GeFAH's experiment and research laboratories and analysis rooms, and we were able to strengthen our ties with Gifu Prefecture. Incidentally, this is the first trial in the country where a livestock hygiene service center and university laboratories are located in the same building and can actively collaborate.

The collaboration with Gifu Prefecture has two aspects: education and research. Regarding education, we conduct lectures and experience-based practical sessions in conjunction with Gifu Prefecture. We have asked the prefecture for intensive lectures on veterinary-related laws for some time, but since the opening of the center, we have further developed our collaboration, initiating livestock hygiene internships that allow participants to receive more practical experiential learning at the livestock hygiene service center. Education in veterinary science usually offers only limited opportunities to enter real-life settings. In such circumstances, I feel that practical learning that shows students how their studies are useful for society has truly deep meaning.
We also use the chicken house at the university farm to demonstrate disease prevention in the event of an outbreak of highly pathogenic avian influenza with Gifu Prefecture, and we have students participate in this.

We further plan to have students observe dissections of sick livestock that have been brought into the livestock hygiene service center in the future. These opportunities are available precisely because the livestock hygiene service center is located on campus. I hope that these valuable experiences will increase students' understanding and interest in farm animal clinical medicine and livestock hygiene and resolve--even only by a small amount--the lack in farm animal veterinarians and veterinarians in the public service, which has been particularly raised as a problem in recent years.

Stronger links with farmers, contributions to students' improved willingness to learn.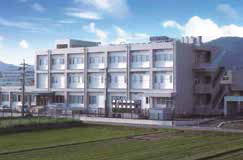 Concerning research, we work closely with the livestock hygiene service center and are keen to improve the level of livestock hygiene through joint research and contribute to the local livestock industry.
Specifically, we are furthering research into drug-resistant bacteria, porcine mycobacteriosis, toxoplasmosis and the like. My area of responsibility is research into bovine leukemia. Recent years have seen an increasing trend in cattle with leukemia, and it is becoming a problem throughout the country. If cattle are found to have leukemia, they must be slaughtered. Livestock farmers are prevented from selling their cattle; moreover, they must bear slaughter costs. The price of calves has risen steeply lately, making this an extremely heavy blow for farmers. What is more, leukemia testing requires blood collection, which means that frequent testing is difficult for large-scale farmers with large herds of cattle. Given this, I am researching whether testing can be performed with the collected milk and I aim to be able to test with saliva or urine, as well as milk.

This kind of research cannot proceed without the cooperation of local livestock farmers. However, researchers do not have a network to help them search for farmers willing to cooperate. Therefore, it is the livestock hygiene service center that we can rely on. Being introduced to farmers who will cooperate and hearing about topics affecting those in the field motivates harder work in research, and it seems to stimulate the involved students.
Furthermore, we hold livestock hygiene technology reviews jointly with the livestock hygiene service center, and another major benefit of collaboration is the ability to exchange detailed information on actual cases.

I hope to deepen our collaboration with Gifu Prefecture further. I would also like to create a livestock hygiene education and research model that would be called the Gifu model throughout Japan and to demonstrate its results far and wide. In the future, we aim to expand the collaborative circle to the Tokai and Chubu regions and build an expansive network that links livestock hygiene education and research bases at veterinary universities across the country.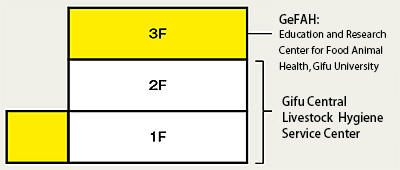 The Gifu Central Livestock Hygiene Service Center was relocated into the premises of Gifu University Yanagido Campus in 2017. The Education and Research Center for Food Animal Health, Gifu University (GeFAH) serves as a bridge between the center and the university, and they jointly offer practical training and research opportunities such as experience-driven workshops, livestock hygiene technology meetings, etc. to students and researchers at the Joint Department of Veterinary Medicine, Faculty of Applied Biological Sciences, and the United Graduate School of Veterinary Sciences.

---
Reducing physical distances and tightening collaborations.
We want to build up the livestock industry with Gifu University.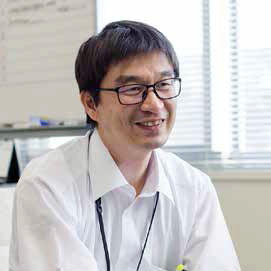 Gifu Central Livestock Hygiene
          Service Center
Dr. Hiroaki Kobayashi, DVM
Before relocating the facilities to the Gifu University site, the facilities were divided between Gifu City and Ōgaki City in locations far from the university, but the two facilities have now been merged and moved within walking distance from the university. The reduction in physical distance has produced obvious beneficial effects, such as professors being able to visit for discussion and information exchange, as they have already done several times. Government alone cannot easily ensure advanced technology, so we are certainly interested in using professors' expert knowledge and skills on site.
As Japan's population continues to decrease, every industry risks falling into difficult circumstances if it stands by without taking action. As people involved in the livestock industry, we have a responsibility to continue to provide tasty, safe meat for consumption, but ensuring safety requires ongoing effort and raising the next generation for livestock hygiene is an urgent matter. We wish to go on facing the issues that affect livestock sites, while further deepening our collaboration with Gifu University and building up the livestock industry together.
Internal links
Original sites
External links
File links