Project aids analysis of Kumamoto earthquake relief survey. Research experience leverages infrastructure readiness for disaster prevention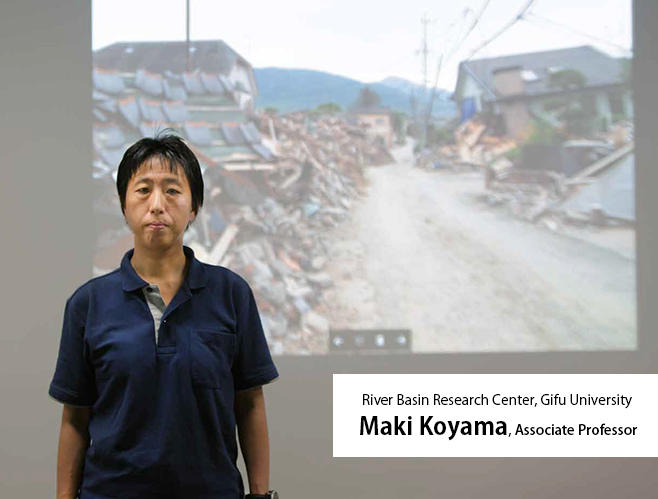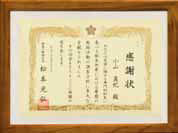 Details about relief activities in the Great Hanshin-Awaji Earthquake were unavailable
What started my interest in disaster prevention was the Great Hanshin-Awaji Earthquake, which happened when I was at university. When this unprecedented calamity happen right in front of me, and I realized that I had nothing to offer, I chose a laboratory working on disaster prevention. Disaster prevention has a hard side involving things like earthquake-resistant reinforcements for buildings, and a soft side including things like disaster prevention drills. I focused on the soft side and have worked on explaining the mechanisms behind death and injuries that occur, and on research into disaster-mitigating strategies based on the explanations that emerge.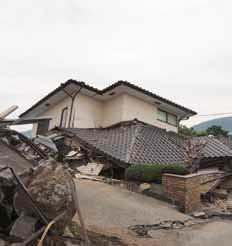 If the conditions in collapsed houses where earthquake rescue activities are focused allow rescue work, the potential for saving human lives increases. But when I took a look at rescue records for the Great Hanshin-Awaji Earthquake, I found that there were very few instances where detailed studies had been made of issues like house collapses, entrapment conditions, and rescue methods. As a result, there were not enough survey data, and there was still no systematic organization of rescue work.

In 2015, the National Police Agency developed a training program for rescue from collapsed houses, in which they created training units that reproduced collapse sites. But as I mentioned before, we have almost no information reported on rescue conditions during large-scale disasters. So the reproduction of building collapses didn't fully reflect actual circumstances during a disaster. It was around that time that the Kumamoto Earthquake happened. Then we were contacted. The Director of Training for the National Police Agency had perceived the need for a detailed survey of disaster sites and requested our assistance in a survey of rescue activities in collapsed houses.


Detailed survey analysis undertaken provides reality-based training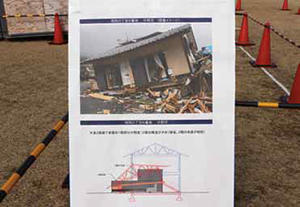 In the Kumamoto Earthquake survey, rescuers who had given interview reports to officials of the National Police Agency were asked to complete a written sheet. The survey sheet itself was devised to show details of entrapments, for example, through the use of sketches illustrating patterns in the state of collapsed houses. Results from an analysis of the information collected revealed details such as commonalities and differences with regard to the Great Hanshin-Awaji Earthquake.

The Kumamoto Earthquake was a rare case in which a number of rescue units had already rushed to the site by the time of the main quake, due to the occurrence of a magnitude 7 foreshock. Aftershocks also continued, and there were many people who had escaped to evacuation shelters or outside, and others prepared to escape outside quickly, which was presumed to have minimized the number of casualties relative to the number of collapsed buildings. Where rescue was concerned, the results showed that any beams, columns, or other structural members applying compression tended to lengthen rescue times.

This type of information gleaned on rescue conditions in the Kumamoto Earthquake had already been utilized in rescue training involving rescue units. And a drill carried out in Gifu Prefecture in February 2017 represented a further, more realistic application of the survey, including elements such as a reproduction of rescue conditions based on collapsed houses in the Kumamoto Earthquake.
Looking beyond the negatives of disaster prevention in a shift to more upbeat activity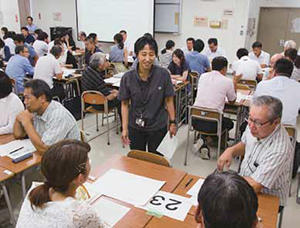 Associate Professor Koyama's online lectures to be available free of charge


Associate Professor Koyama's online lecture series "Case studies in disaster relief and recovery" will begin on March 14, 2018, through "gacco", a JMOOC-authorized service whose mission it is to share the online lectures without charge. For details, visit the gacco home page with the QR code.
In many earthquake incidents, the local people are needed for hands-on work in rescue activities. In the Great Hanshin-Awaji Earthquake too, thousands of people are believed to have been rescued with the help of nearby residents. Which is why local disaster preparedness sites give the message that "Everyone must help", but local people have no training at all. To prevent this situation from causing secondary disasters, the current survey again showed just how important it is that the soft-side disaster prevention infrastructure stresses the importance of assuring safety during rescue operations, and that it provides ways to do this.

In 2015, the "Gifu Disaster Mitigation Center" was established in Gifu University, and through means such as courses in disaster prevention leadership training, the Center works to develop capable people responsible for local disaster prevention. Though some people may embrace an image of "disaster prevention" as a sporting team of sorts operating in top-down mode, this approach has its limitations. A multifaceted perspective is essential to disaster prevention. People who can do what they're capable of doing and at the same time engage numerous other people are often suitable, and I think they're found in a wide range of areas. I think that's a source of innovation too. What I'd like is for disaster prevention, with its negative connotations, to take a more upbeat and progressive direction, and to make it into an activity that everyone could enjoy pursuing.

Internal links
Original sites
External links
File links