Message from the new president Hisataka Moriwaki
-The university as a place where people are Gathering and Growing-
Improving the University's presence through central Japan-based activities and education
Creating a campus that convinces students they will find something worthwhile in their University life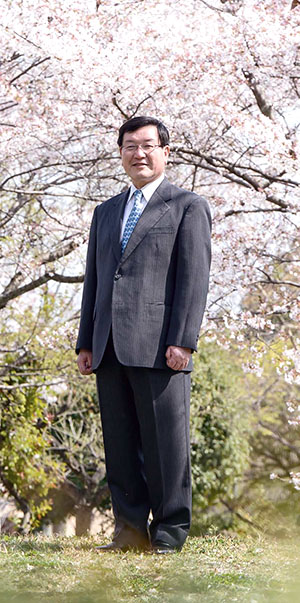 Interviewer: To get started, I'd like to ask what you now look forward to when you've become the University's president.

President Moriwaki: The first is that Gifu University should be a place where people are Gathering and Growing. To that end, I think my greatest tast is to raise the University's presence while emphasizing that it is a national university strongly based in the community and dedicated to our motto "Learning, Exploring, and Contributing".

The second relates to the fact that this year marks the fifth year of Gifu University's second 6-year plan as a national university. The objective of this second term was to increase the University's presence, but two years from now we will begin the third term, which will further highlight the University's characteristics. I am planning to get an early start on preparing for the third term.

Interviewer: What does it mean to be a "place where people are Gathering and Growing"?

President Moriwaki: I think it means being a university with an environment that convinces students they will find something worthwhile in their University life--for example, offering them not only the opportunity to study, but also plenty of cultural activities and sports outside the class room. Actually, I'm thinking about academic commons where students can share various activities in the library, which is currently being renovated. I want to create an environment where coming to the University is a fun for students, where there are facilities other than just classrooms.


I also want to further build-up the development of the University's core functions for knowledge and learning, and to communicate the capabilities we have developed both in Japan and overseas.
Interviewer: What do you mean when you talk about "central Japan-based"?

President Moriwaki: The School of Medicine and University Hospital are the real center of regional medicine, and I think they provide one particular example of how we can be locally dedicated. Another is provided by the Faculty of Engineering, which has participated in a number of civil engineering projects in the Chubu(central Japan) region, including the opening of the Chubu Centrair International Airport. The Gifu Prefecture Central Livestock Hygiene Service Center will soon move to our campus, highlighting the increasingly important role we are coming to play in agricultural and industrial research in the prefecture. In this way, we are involved in numerous projects through partnerships with the local community, and I think it's important that local residents be kept aware of these activities.

In fiscal 2013, we earned the designation of "Center of Community (COC)" from the Ministry of Education, Culture, Sports, Science and Technology. I plan to pursue more human resources development and research with a focus on the community by exchanging honest opinions with that community.

My hope is that based on these and similar initiatives, we will be able to develop our core functions of knowledge and learning and to communicate the capabilities we have developed here both in Japan and overseas. To that end, I want to broaden these activities while pursuing partnerships with the prefecture, city, and numerous other universities.

Another example of our contribution would be to provide opportunities for local residents to study at the university, for instance by holding lectures that are open to the public and through the Gifu University Forum.

Interviewer: How do you plan to globalize the University, for example through international contributions?

President Moriwaki: Currently, about 300 foreigners study and work at the University. We also have overseas offices in China and Bangladesh, and I would like to expand more of this type of organization for overseas partnerships in the future. Last year we formed an educational partnership consortium with 10 universities located in 5 South Asian countries. I would also like to accept more international students by establishing courses that are offered exclusively in English.

Today's students are subdued than the students of years past, and the number of students who wish to study abroad is declining. It's important to study overseas and come into contact with various peoples and cultures when you're young. The University has created programs to offer assistance and to push students who are interested in studying abroad.

Interviewer: What do you think Gifu University's strengths is?

President Moriwaki: One strength is that all of the University's faculties are located together on a single campus. This is significant insofar as it is the sole core of higher education in Gifu Prefecture. However, since we are located some distance from the city center, we have opened a Satellite Campus in Gifu Sky Wing 37, a high-rise building across from JR Gifu Station. I think we can draw more on this strength--the fact our students can take classes at a single, integrated campus in the suburbs or at our campus just a walking distance from the station.


Interviewer: In closing, do you have a message you would like to carry to the University's students?

President Moriwaki: Gifu University is a medium-size university whose students can study a broad range of disciplines. As I mentioned earlier, since all of our faculties are located on a single campus, our students can attend lectures offered by other faculties as well as their own.

To students, I would like to say: The four years you spend at the University are the beginning of your life for social independence and established self, in the truest sense of the word. My wish is for you to take advantage of this important period in your life by learning and conducting research in this rich environment and becoming a person who can make a contribution to our region, our society, and our world.
-From Vol. 27 of Gidai no Ibuki, the Gifu University public relations magazine-
Internal links
Original sites
External links
File links