2017 New Year Greetings from the President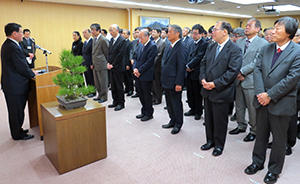 I would like to wish everyone a very Happy New Year. The weather was warm and mild over the holidays that ,I hope,gave you a peaceful holiday season.
In this year of 2017, much progress has been promised for the third Mid-term Objectives and Plans Period. I would like to briefly summarize the progress in four particular aspects.

The first is an overview of new education and research organizations that will be launched in this year.
On April 1st, 2017 academic year, the "Faculty Organization", a new University-wide organization for all faculty members, is to be launched. Also on the same date, a new graduate school named the Graduate School of Natural Science and Technology will be established. With these new organizations, I am confident that we can better meet the scientific and financial needs of general society at large.
Next, the Gifu Prefecture Central Livestock Hygiene Service Center will open on campus, being scheduled to commence operations on June 16. In addition, the Center for Highly Advanced Integration of Nano and Life Sciences, a successor to iCeMS (Institute for Integrated Cell-Material Sciences, Kyoto University), entered full operations on April 1st of this year, and a dedication ceremony is planned for June 2nd. I believe that this Center has great potential to become an international hub in this research field.
Moreover, the Graduate School for the Teaching Professionals has raised the number of available graduate student slots by five, and established the country's first "school administrator training course". Meanwhile, students of the International Liberal Arts Course, which was established last year by the Faculty of Regional Studies,enter the 2nd grade and will soon be embarking on their six-month or one-year studies abroad.
Then,I would like to briefly mention plans for the coming years.
Following the opening of the Gifu Prefecture Central Livestock Hygiene Service Center, a new institute called the Gifu Prefecture Food Science Research Center (name tentative) will be established on campus, with operations scheduled to begin in the 2019 academic year. Also in 2019, on the international front, joint degree programs with the Indian Institutes of Technology Guwahati and the National University of Malaysia are set to begin, currently in full preparations. In addition, detailed researches are now undertaken to establish new education organizations for business administration and management, with the 2020 academic year as the target.

The second concern is our governmental budget request.
We submitted our budget request to the Ministry of Education, Culture, Sports, Science and Technology, organizing the whole proposal along our three strategic objectives, namely education, international contribution, and research. The Ministry, in turn, allocated our budget at a rate of 101%. Within this budget, we were able to secure proper funding to cover personnel costs for the Center for Highly Advanced Integration of Nano and Life Sciences, which as I said began full operations in April of this year.

The third aspect is governmental support with 2016 supplementary budget. As part of it , I and Gifu Prefecture governor jointly applied for the Gifu University Smart Die Development Hub, and we received approval under the framework of the Ministry of Education's program to build regional centers for testing and demonstrating new developments in science and technology. For this Hub, we now have quite large funding. I am confident that the Hub will grow as one of the strongest centers of the University.

Lastly, I wish to summarize the overall progress we have recently made. When Period III of the Mid-term Objectives and Plan began, Gifu University proclaimed that, in addition to serving as a core institution for regional revitalization, it would develop strengths in four key areas: life science, environmental science, next-generation manufacturing, and medical education development.
As for the former objective of being a core institution for regional revitalization, the COC and COC+ programs are in their full stride.
As for life science and next-generation manufacturing, the Center for Highly Advanced Integration of Nano and Life Sciences and the Gifu University Smart Die Development Hub will definitely play their respective roles.
As for environmental science, a series of application experiments are underway in the township of Yaotsu, Gifu Prefecture as the practical ground for validating technologies of the advent of hydrogen-powered society. In the area of medical education development, the Medical Education Development Center (MEDC) , a national center, is pushing most notably towards its medical education fellowship program.

In closing, I am afraid if my remarks may have turned into a rather long checklist, but I believe it is essential to realize the whole aspects that we should commit with either in this year, in the next year, or in the near future, and also the possible developments that await us thereafter.
Again, I wish you a happy New Year, I pray for your continued health and prosperity, and I ask you for your continued cooperation and assistance for Gifu University.
Thank you all very much.

January 4th, 2017

Hisataka Moriwaki
President of Gifu University
Internal links
Original sites
External links
File links