President's Address at Graduate School Admission Ceremony in Spring 2015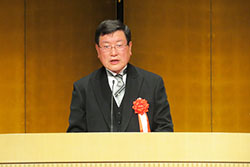 April 7, 2015
Hisataka Moriwaki
President, Gifu University

Congratulations on your entering Gifu University Graduate School. Nothing makes me happier than to see 631 new graduate school students starting the 2015 academic year. As the representative of the staff members of Gifu University, I offer you a warm welcome. I would also like to take this opportunity to offer my sincere congratulations to your parents or guardians, and to the senior students who supported your efforts to enter the graduate program.

Along with five master's programs and two doctoral programs, Gifu University has three united graduate schools comprising of Gifu University and other universities. Gifu University actually played a leading role in establishing these united graduate schools. Joining us here today are those entering our Teacher Education Course for Professional Degree in the Graduate School of Education, and students entering our United Graduate School of Drug Discovery and Medical Information Sciences established together with Gifu Pharmaceutical University.


We proudly provide you Gifu University as a "place for growth." It is a place to cultivate people and to help individuals develop. Then, what type of human resources shall we hope to develop? Our answer is, people who can "Learn by themselves, who can Explore any study targets, and who can Contribute anywhere in the world." Among them, I would like to focus on "Contribution" today. Contribution to the local society might first arise in your mind, but our goal of contribution is, of course, not limited to local activities. Contribution to whole Japan as well as global contributions is essentially included in our vision. For example, Gifu University has accepted a significant number of graduate school students in response to requests by private enterprises, and from regional and national government institutions. Of course, the graduates are expected to have highly advanced professional skills after training to meet the needs of the organizations they are affiliated with. In order to reach such higher professional skills in the graduate school, you should brush up your goals in the aspect of "Learning and Exploring" in the school.
Let me introduce a close friend of mine as an example of a typically successful post-doctoral career. He proceeded to the master's program at a graduate school of agriculture at a university where he acquired master's degree in bioscience, and learned a great deal of basic aspects regarding plant life. He then got a researcher's post at a company R&D section. After laboratory career for 10 years, he learned and finished a doctoral program as a working professional. In his forties, he developed chemical compounds useful in the cultivation of grapes and potatoes, and became a successful businessman by the time he reached his fifties, frequently traveling abroad on business, sometimes two or three times a month. Currently, he is back to his old laboratory, this time providing guidance for younger professionals. This is a success story of a person who was fortunate enough to directly benefit from what he studied in graduate school. What I hope you will learn from this story, however, is that the rewards to be gained from your studies may not come immediately after graduation. You might be rewarded for your contributions to society many years after graduation. Also, I would recommend you to think carefully about how you want to live as a professional, as a person with advanced knowledge in a given field. Accordingly, you should make decisions on what you want to gain during your time in graduate school. Staff members at Gifu University are ready to talk with you at any time about career paths and how you can benefit most from your graduate school studies.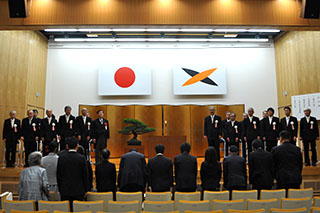 Promotion to a doctoral degree after completing your work in a master's program may be a step with great appeal for some of you, depending on the course you have chosen. This particularly applies to those aiming an advanced research position. In fact, researches awarded a Nobel Prize are often done by persons around the age of thirty. In addition, it is our dreams that spur us on to new ideas and discoveries in any field of sciences. Some of you may feel that what I have said just now, does not agree with my previous comments. However, one certain thing is - no matter what your field of study may be, an ongoing effort will give you strength. The dream of making a discovery or making a contribution can drive you towards your goal for the future either as a highly skilled professional in any given fields, or as a scientist or research professional. Hold on to your dreams, and doing so will make your life in graduate school at Gifu University truly enjoyable as well as useful one.
In conclusion, I would like to say that I very much look forward to working with you and sharing my university life with you.
Thank you
Internal links
Original sites
External links
File links