President's Address at Admission Ceremony in Spring 2015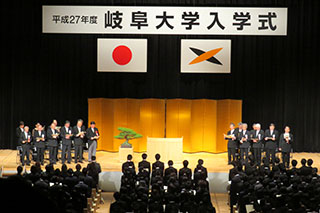 April 7, 2015
Hisataka Moriwaki
President, Gifu University


First of all, I would like to express my sincere congratulations on your admission to Gifu University. It is a great pleasure to welcome the newly enrolled 1,292 students to Gifu University today. On behalf of all staffs of Gifu University, let me again extend my warm congratulation to our new colleagues. It's our great pleasure to learn and study together with you from today forward. I would also like to take this opportunity to express my deepest appreciation to the parents and senior students who kindly provided guidance for you up until today.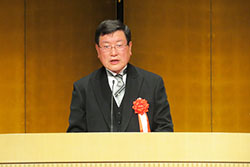 Let me start by introducing the long, proud history of Gifu University. Then, I will turn to the present Gifu University and our grand vision toward the year 2025. I believe that the students here today will already be indispensable members of our society by 2025.
Gifu University was formally founded in 1949, but as shown in this slide, each faculty has its own predecessor. For instance, Gifu Prefectural Normal School was the predecessor of the present Faculty of Education, dating back to 1874, and we celebrated our 140th anniversary last year. Thus, Gifu University is the fourth oldest university in Japan. You can trace the history of Gifu University by examining archives both in documents and monuments on and off campus.
Now, let me talk about our "Future Vision toward 2025." Rather than going over the details shown on the slide, I would like to point out the essentials of the Vision. We have a common understanding that Gifu University is a "place for growth." From the perspective of the University, it is a "place to cultivate people." The question next comes up, what kind of people do we raise? The answer is; people who can "Learn by themselves, Explore their own targets, and Contribute anywhere in the world." It may not be difficult to understand what "learn and explore" means, so I would like to focus on "contribute" here. Many people here might associate the word, "Contribution" with "regional contributions." Our definition of "Contribution" by Gifu University is not confined to the level of the prefecture or the Chubu district of Japan. It extends further beyond prefectural, district, national borders, and even reaches global. We also aware that contributions should always take people's needs into account. We also have to link "Learning and Exploring" with the needs of Japan and the world. To this end, we need to leap out of Gifu University and Japan, and see the world. I hope that our freshmen colleagues will share our lofty goals to become true contributors to Japan and the world no matter what their special field or area of expertise may be.
Next, I would like to talk about Gifu University's international strategy, which is shown in the slide. Gifu University has 44 Sister universities, and 300 to 400 international students are studying at the University at any given time. Most of them are fluent in Japanese, and / or English, while others, like many of you, are still working to improve. Please do not hesitate to participate in various international exchange activities while you are at Gifu University.
Also, I hope many of you have an early opportunity to study abroad. This slide shows a photo of students at the Faculty of Applied Biological Sciences participating in an international research competition called, "iGEM." We see the famous John B. Hynes Veterans Memorial Convention Center in Boston, Massachusetts in the background. The Gifu University team won the silver prize in this competition. This is a good example of students taking full advantage of the unique support system offered by Gifu University to succeed in an international arena.
Now, I would like to talk about how you spend your campus life at the University. As you begin your studies here, I'm sure you are aware that the way of studying will be completely different from the one you did in your high school days. You will attend lectures, rather than receive instruction. You were pupils at primary, middle and senior high schools, and now you are university students. What is the difference? In addition to time-tested content in established academic disciplines, you will learn unique research and study styles that our professors have painstakingly developed in their fields of liberal arts and the natural and social sciences. As you study these subjects, you will be expected to seek and establish your own aspects of research. That is what studying at the university is all about.
I would like to add that studying at the University requires you to play a full roll as an established society member. You are expected to study at Gifu University as a responsible member of society. All university students are considered "ladies and gentlemen." The university community and society as a whole expect you to behave like mature individuals. Please do your utmost to study in the most responsible way possible and seize every opportunity before you.
As I mentioned, Gifu University is a place for "Learning, Exploring, and Contributing." We staff members also need to work hard to realize this goal together with our fellow students. I hope that everyone works together and redoubles their efforts as members of the university community in the years to come.
Let me conclude my speech by wishing you a fulfilling, enjoyable campus life here at Gifu University. Again, congratulations on your admission to the University.
Internal links
Original sites
External links
File links