Associate Professor and nine Faculty of Education students perform for "Cendrillon"
Associate Professor KONNO Kenichi (Music Education Course, Faculty of Education) and nine students studying the course will perform for "Cendrillon" (opera composed by Jules Emile Frédéric Massenet (May 12, 1842 - August 13, 1912)) at Salamanca Hall (Gifu City) on Friday, December 16 and Saturday, December 17, 2022.
"Cendrillon" is a French word meaning "Cinderella." Associate Professor Konno will play a role of a father of Cinderella, "Pandolfe," and nine students who survived an audition will either perform as spirits or sing as members of a chorus for two days.
On Wednesday, November 30, Professor Konno and six students visited the Office of the President and talked about their experiences of winning a performance slot for Cendrillon and their ambitions.
"I am so excited being surrounded by all experienced actors and actresses on stage." "Under an instruction of Professor Konno, we are practicing very hard every day after classes and before rehearsals" said some of the students when they were engaging in casual talks with President YOSHIDA Kazuhiro in his office. In the same meeting, Professor Konno expressed his strong hope that their presence at Cendrillon could lay a groundwork for GU students to challenge an audition from next year onward.
President Yoshida thanked Professor Konno and the students for their visit to his office. He also touched on many positive comments made for GU students from local residents. The meeting ended with the President's strong words of encouragement wishing them the best of luck for excellent performances and a teamwork.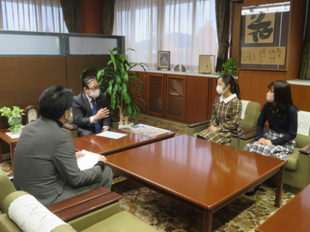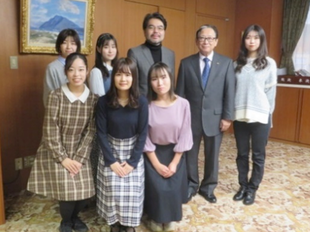 2022.12.09
Internal links
Original sites
External links
File links