The 73rd Foundation Anniversary of Gifu University
Cerebration events for the 73rd Foundation Anniversary of Gifu University were held at Gifu University auditorium on June 1, 2022. The events were attended by approximately 50 people from on and off campus.
During the celebration, the Ceremony for Commendation by Gifu University Alumni Association President was held to honor the people who made outstanding achievements in their research on education, and whose works received a high evaluation from society. They are acknowledged to have played an important role to enhance Gifu University's stature both at home and abroad.
The Commendation of this year goes to:
- Mr. Norikazu Nakasuji who developed "Frixion Ball (erasable ballpoint pen)" at The Pilot Ink Co., Ltd. where he started working after graduating from Gifu University
- Mr. Takenori Hiroe who established a patent professional corporation, "HIROE AND ASSOCIATES" after graduating from Gifu University. He was presented with "Intellectual Property Achievement Award" in 2001 and "Medal with Yellow Ribbon" in 2011.
The ceremony was followed by President Kazuhiro Yoshida's address. He spoke about the activities of Tokai National Higher Education and Research System established in April 2020 after integration of Nagoya and Gifu Universities, as well as GU's academic and technological prowess, current state of industry-academia-government collaboration, successful regional revitalization programs, etc. He concluded his speech with his strong resolve to play a bigger role for local communities as an academic center.
The 73rd Foundation Anniversary celebration events were scaled down out of infection concerns. Please feel free to access Gifu University YouTube for the celebration events.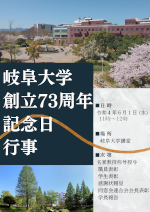 Time and Date:11:00a.m.-12:00p.m., Friday, June 1, 2022
Venue:Gifu University Auditorium (on campus)
Program
○ Title Conferment for Professor Emeritus
○ Commendation of Teaching and Administrative Staff
○ Commendation of Students
○ Presentation of Certificates of Gratitude for Contributors
○ Commendation by Gifu University Alumni Association President
○ President Address
2022.06.22
Internal links
Original sites
External links
File links