Winning of "Campus Venture Grand Prix Chubu"
Winning of "Campus Venture Grand Prix Chubu" On Thursday, December 17, 2020, "Campus Venture Grand Prix Chubu" was held online. Those who are eligible for applications are the students living in Chubu region (geographical center of Japan). There were a total of 258 applications and the participants competed their unique business plans. Gifu University team led by Mr. Shunya Chosokabe (1st year student, Department of Materials Science and Procession, Graduate School of Natural Science and Technology) won the grand prize. His teammates are Ms. Rina Sawada (4th year student, Department of Chemistry and Biomolecular Science, Faculty of Engineering) and Mr. Taiki Yoshikawa, (graduate school student, Aichi Institute of Technology).
Mr. Chosokabe won the Tongali Businss Plan Contest 2019 for his research work of inserting functionalized molecules into fibers. His winning business plan was to create and commercialize mosquito-repellant cloth by using "crazing*" technology (the cloth is thought to prevent malaria infections). The team members brushed up on their business plan for mosquito-repellant cloth development and commercialization with their entry title, "Start from Gifu University: Development of High-Functional Cloth using the World's First Textile Processing Technology."
In addition to the grand prize presented to Mr. Chosokabe's team, the Chubu Bureau of Economy, Trade and Industry Director's Special Award went to Ms. Nanako Nomura (3rd year student, Nursing Course, School of Medicine), and the Chubu Region Institute for Social and Economic Research Special Award went to Ms. Ryoka Ando (4th year student, Technology Education, Faculty of Education).
Mr. Chosokabe and Ms. Nomura will attend "Campus Venture Grand Prix (national level)" on Friday, January 29, 2021.
Crazing*: phenomenon that produces a network of the cracks on the surface of a material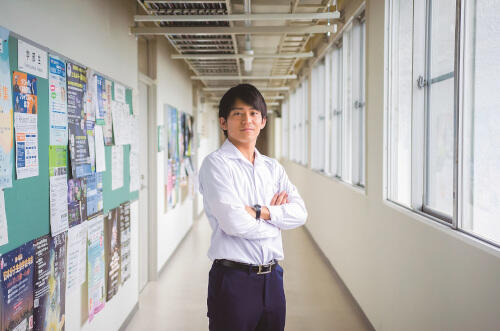 2021.01.28
Internal links
Original sites
External links
File links