Gifu Nice Rice Project : Act 3
Gifu University presented 40kg of Gifu Nice Rice to a member of Gifu Football Club (FC Gifu) on November 17, 2018. The rice was grown and harvested by the people attended the Gifu Nice Rice Project 2018 under the Gifu University and FC Gifu Partner Agreement for Environmental Conservation.
In this Gifu Nice Rice Project, the university staffs and FC Gifu members work together from rice planting to sale so that people become more aware of the ideal environment for rice cultivation and also are encouraged to think deeply about the environmental issues. The project comprises three acts:

Act 1 "Rice Planting and Muddy Soccer Game,"

Act 2 "Rice Harvesting" and Act 3 "Rice Presentation."The brand of rice is a famed Hatsuhsimo, and was named "Gifu Umai (Gifu Nice Rice)." Everything from rice planting to wrapping is done within the university campus.
Sixteen students from the Education Faculty Affiliated Elementary School and children belonging to FC Gifu Soccer School presented the rice to Mr. Michiya Okamoto at Gifu Memorial Center. FC Gifu's final match will be held there as its home ground of this season. "Do your utmost next year being empowered by our rice filled with love," said one of the students in a big smile and cheered Mr. Okamoto. "We will do our best by appreciating every grain of rice to the fullest", said Okamoto. Students were also presented the rice.
This year marked the fourth rice project, and everyone enjoyed their times in the field. Their big laughter was heard everywhere throughout the events. The project offered people an opportunity to become familiar with the environment by way of rice cultivation, and a strong alliance between Gifu University and FC Gifu. The rice is currently for sale at the farm.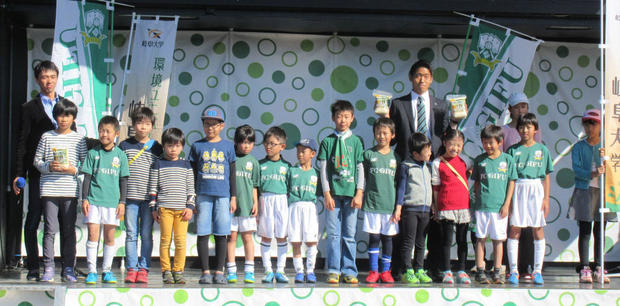 2018.12.10
Internal links
Original sites
External links
File links