Gifu Nice Rice Project Act 2: "Rice Harvesting"
Gifu University held the Gifu Rice Project Act 2:
"Rice Harvesting" at the Yanagido Farm of the Gifu Field Science Center, the Faculty of Applied Biological Sciences, Gifu University on November 11, 2018. This event is part of promotional activities of the Gifu University and Gifu Football Club (FC Gifu) Partner Agreement for Environmental Conservation.
In the Gifu Nice Rice Project, Gifu University staff and FC Gifu members work together in rice production from planting through harvesting so that they become more aware of the ideal environment for rice cultivation and conservation issues.

A total of 62 people including 35 Faculty of Education-Affiliated Elementary School students and their families took part in the project. They are the participants of the 4th Parent-Children Rice Planting & Soccer Game in Muddy Field held at the same farm on June 9, 2018.

On a glorious sunny day, Professor Shinya Oba, Director of the Gifu Field Science Center first spoke about the best timing of harvesting and also a lean year that may take place once-in-one hundred years, causing widespread famine since early times. Later, under the instructions of the center staff, the students and their families started harvesting "Hatsushimo" rice they planted in June while appreciating the bumper crop this year. They also experienced drying the crop on racks. At the end of the day, approximately 530 square meter field was harvested by all participants working as one.
In addition, they hulled and milled rice by which they experienced every aspect of rice production. They truly enjoyed this event out in the field.
 "It was fun to know the secret of rice production (hulling and milling)." "I want to enjoy tasting rice more because I realized that even one grain of rice is treated carefully by each grower." said the students.

The harvested rice will be sold at a store in the farm and some are going to be presented to the FC Gifu members.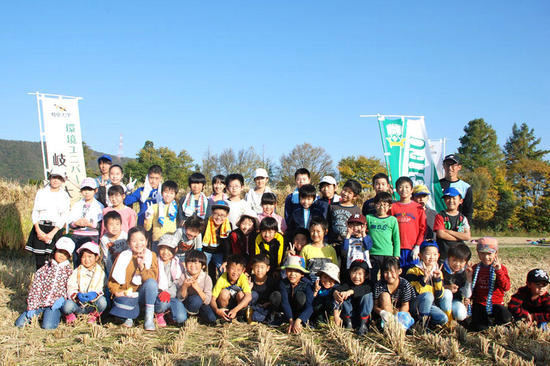 2018.12.06
Internal links
Original sites
External links
File links