We will hold The 16th Japanese Speech Competition by International Students Residing in Gifu University(Please come to listen to wonderful speeches presented by individual speakers!)
This year (2017) marks the 16th anniversary of the Japanese speech competition by international students residing in Gifu Prefecture hosted by the Gifu Regional Council for the Promotion of International Exchange. The competition is designed to raise motivation to study Japanese and enhance the Japanese language skills for international students enrolled in educational institutions within Gifu Prefecture. Twelve international students will make presentations in Japanese at this year's competition. The speech competition is followed by an informal social gathering among students and local businesses. We all look forward to your presence at the event. Please come to join us ! No application required.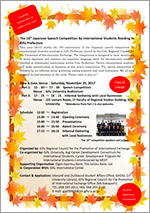 Time & Date, Venue:Saturday, November 25, 2017
Part 1: 13:30~ 17:00 Speech Competition
Venue:Gifu University Auditorium
Part 2: 17:15 ~ 18:15 Informal Gathering with Local Businesses
Venue:101 Lecture Room, 1F Faculty of Regional Studies Building, Gifu
University *Attendance from Part 2 is also welcome.
Inbound and Outbound Student Affairs Office, GHOGL (1F
University Library), Gifu Regional Council for the Promotion
of International Exchange Office (Ms.Kobayashi)
TEL: 058-293-2011, FAX: 058-293-2143,
E-mail: gjai05018@jim.gifu-u.ac.jp
2017.11.08
Internal links
Original sites
External links
File links