Comprehensive Partnership Agreement with Anpachi Town
Gifu University (GU) and Anpachi Town (Gifu Prefecture) signed a comprehensive partnership agreement on Tuesday, October 31, 2023.
GU and Anpachi Town have been engaging in various joint projects, such as GU academic staff giving lectures on disaster prevention in the town. With the signing of the comprehensive partnership agreement, both aim to foster human resources to promote growth of a sound, dynamic society. To this end, the two are committed to building a strong framework of cooperation, and continue to reinforce the partnership in a wider range of fields.
Anpachi Town is the 33rd local municipality within Gifu Prefecture that Gifu University concluded the partnership agreement with.
In the signing ceremony, Mayor OKADA Todomu ofAnpachi Town made the following statement, "By working closely with Gifu University and sharing new ideas with GU students, we tackle challenges together which include declining the farming populations, people's inflow to the town, and development of the public transportation systems."
President YOSHIDA Kazuhiro said that GU is pushing forth the five objectives of "Creation of Businesses and Community-Building," "Product Manufacturing," "Food Production," "Development of New Medical Systems," and "Human Resource Development" to become the best regional hub university in Japan. GU endeavors to contribute to the strong growth of regions by materializing new ideas and innovations. He also asked the Mayor for an opportunity for GU students to learn from Anpachi Town so that both GU and the town can continue to learn and grow together.
GU and Anpachi Town strongly hope that the two can deepen the partnership in the development of human resources and public transportation systems, and more influx of people to co-create community.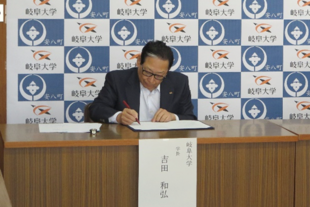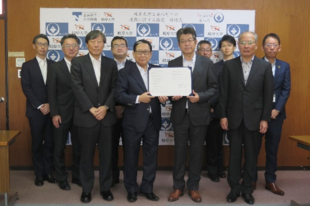 2023.11.20
Internal links
Original sites
External links
File links