Student Commendation Ceremony
On Tuesday, October 31, 2023, the Student Commendation Ceremony was held at the Office of the President.
Gifu University honors students who have made excellent academic achievements, demonstrated outstanding performances in extracurricular activities, and have made great contributions to society.
Three Gifu University students, Mr. OGISO Naoki, Mr. SAKAI Hiroki, and Mr. SAKAI Koki (all are first-year students of the Graduate School of Natural Science and Technology) won the Grand Prix at the "ReVolution #Research" Division of the "Laval Virtual ReVolution #Research," which was held in Laval, western France from Wednesday, April 12 to Sunday, April 16, 2023. The "Laval Virtual" is an annual international competition for virtual reality (VR) and augmented reality (AR).
At the ceremony, President YOSHIDA Kazuhiro of Gifu University presented the certificates and commemorative gifts to the three students and congratulated them on their win. He said, "Please continue working hard on your research and try your best to become a role model for your juniors."
Gifu University stays committed to supporting and guiding students to achieve their goals and success in life.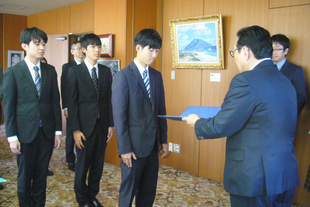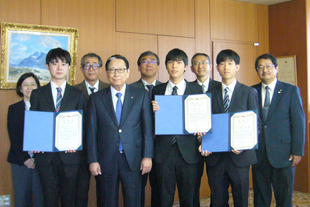 2023.11.20
Internal links
Original sites
External links
File links