GU student-team ranked third in the "Formula SAE Japan 2023."
Gifu University (GU) student-team ranked third in the "Formula SAE*1 Japan 2023" held online and offline (at Ogasayama Sports Park ECOPA, Fukuroi City, Shizuoka Prefecture) from Monday, August 21 to Saturday, September 2, 2023. The "Formula SAE Japan (FSAEJ)" is an opportunity for students to develop skills for object creation "MONO-ZUKURI", which in turn contributes to the expansion of the Japanese automotive industry. The third ranking is the best record for the GU student-teams since their first participation in the competition.
On Monday, October 30, three students of the team and Associate Professor KIKUCHI Kazuhito, who supervises the team, visited the Office of the President and reported their win to President YOSHIDA Kazuhiro.
In the meeting, one of the students reflected on the competition and commented, "We were able to score high in the dynamic inspection this year. We want to share our expertise with our juniors so that they will win big in the next competition."
President Yoshida congratulated them on their success and said, "Ranking third is a remarkable achievement for you. You all remained committed to overcoming many hurdles before you such as limited funds, human resources, and a competitive environment. I am pleased to know that the young generation does understand the importance of handing down traditional technologies including monozukuri manufacturing which is deeply rooted in the Tokai*2 region. I truly look forward to the GU student-team's another victory in the 'Formula SAE Japan' in the future."
1) Society of Automotive Engineers
2) the region usually includes Shizuoka, Aichi, Gifu and Mie prefectures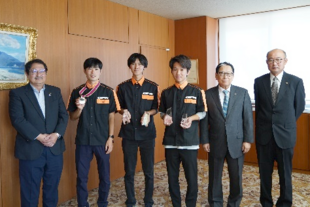 2023.11.08
Internal links
Original sites
External links
File links