The GU student team won the highest award at HackAichi + 2023.
The Gifu University (GU) student team won the highest award at "Aichi Inter-University Tournament Hackathon HackAichi + 2023," held in Aichi Prefecture from Monday, August 7 through Saturday, September 9, 2023.
The word "hackathon" is a portmanteau of the words: "hack" and "marathon," where "hack" is used in the sense of exploratory programming. It is an event, where people engage in rapid and collaborative engineering such as software engineering over a short period of time. The goal of a hackathon is to create functioning software-enginnering or hardware by the end of the event.
The GU student team worked on standardization of a technological transfer from senior workers to new hires or trainees in the workplace. The team members quantified the use of tools by seasoned workers through IoT (Internet of the Things) and AI (artificial intelligence) and compared the use of tools between senior workers and new hires or trainees. Based on their analysis, they made a presentation on a new device system for new higher or trainees to use the tools well and effectively.
On Friday, September 29, the GU student team members and their supervisor visited the Office of the President, to report their win to President YOSHIDA Kazuhiro.
One of the students made the following comment about their achievements: "We need to learn a few tricks but if we can visualize things that are hard to be expressed with words, works are done differently even if the nature of work is almost the same. This is a new discovery for us. I would like to share this finding with our juniors and hope that they continue to explore the potential of our achievements."
President Yoshida said, "Congratulations on your victory at HackAichi + 2023. We are very proud of your efforts and teamwork to overcome the tight schedule and win the highest award at the tournament."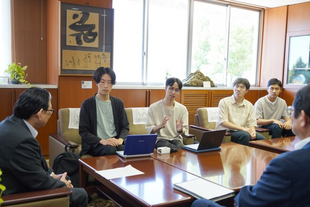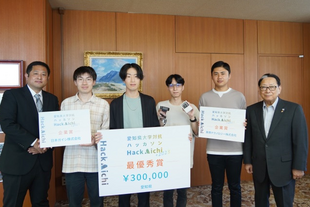 Prizes and the GU student team members
Prizes
Highest Award, Company Award (by Toho Technology Corp.), Company Award (by NGK Insulators, Ltd.)
The GU Student Team Members
- Mr. NAKATANI Naoki, 4th year student, Department of Mechanical Engineering
- Mr. FURUTA Yudai, 4th year student, Department of Mechanical Engineering
- Mr. YANO Ryo, 4th year student, Department of Mechanical Engineering
- Mr. TAKAHASHI Atsushi, 4th year student, Department of Mechanical Engineering
2023.10.23
Internal links
Original sites
External links
File links