Gifu University delegation visited Hue University
On Tuesday, September 19 and on Friday, September 22, 2023, Associate Professor MORIBE Junji and Associate Professor OKUOKA Keijiro from the School of Social System Management, and Assistant Professor MATSUI Mayumi from the Gifu University Organization for Promotion of Glocalization visited Hue University, Vietnam.
Since the conclusion of friendship between Gifu Prefecture and Thua Thien-Hue Province, Vietnam in November 2016, the two regions have been actively engaging in various exchange programs and activities. Such friendly relationship between Gifu and Hue prompted Hue University and Gifu University to sign the partnership in 2018.
On September 19, Gifu University delegation held a meeting with the following members of the School of Hospitality and Tourism, Hue University:
- Assoc. Prof. Tran Huu Tuan, Principal of School of Hospitality and Tourism
- Dr. Tran Thi Ngoc Lien, Vice-Principal and Head of Department for Hotel Management
- Assoc. Prof. Nguyen Duc Cuong, Vice-Principal of School of Hospitality and Tourism
- Mr. Phan Van Ngoc, Head of Department for Administrative Organization, and
- Mr. Le Minh Tuan, Head of Division for Event Management and Service Marketing
In the meeting, Gifu University delegation expressed their deep appreciation to the academic staff of Hue University for assisting tourism design practical training for two subjects for Gifu University students. They are "Glocal Leader Practical Training II" of the University-Wide Core Curriculum, and "Tourism Design Practical Training" of the School of Social System Management. The participants also discussed online opinion exchange sessions between Gifu University students and students from the School of Hospitality and Tourism scheduled to be launched in the second semester in 2023. A ten-day practical training on tourism in Hue in March 2024 was also high on agenda for discussions among the participants.
We sincerely hope that Gifu University delegation's latest visit to Hue University and the launching of new exchange programs can jump-start a robust interchange among students and faculty in diverse fields of studies and research in the days to come.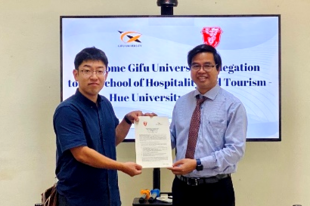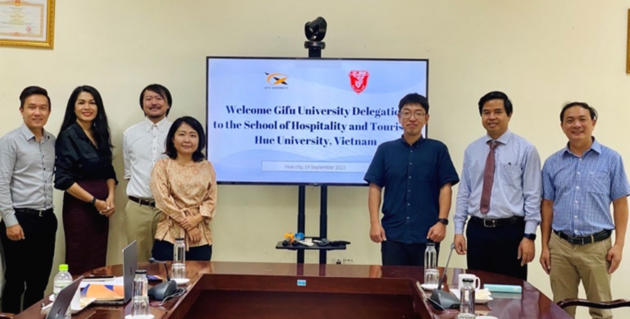 2023.10.12
Internal links
Original sites
External links
File links