NITS/GU Collaboration Workshop 2023
On Tuesday, August 22, 2023, the Graduate School for Teaching Profession, Gifu University and the National Institute for School Teachers and Staff Development (NITS) co-hosted an online collaboration workshop, "School principal's special needs education management."
Strong leadership and management skills of school principals are being sought by society to realize "Reiwa Japanese-style school education." It aims to extract the potential of individual school children.
In Japan, it is reported that an average of 8.8 percent of school children in regular classes have some difficulties in catching up with other classmates in their studies and other school activities. It is imperative for school mangers to create a better educational environment to keep on supporting such children.
The Graduate School for Teaching Profession planned the workshop, "School principal's special needs education management" together with the Gifu Prefectural Board of Education, the Gifu Prefecture Elementary, Junior High School Principal Association, Motosu City Board of Education, and Tarui Town Board of Education. A total of 20 school principals attended the workshop on August 22.
In the first "Crosstalk" session between the board of education members and school principals, the participants discussed how to create a better environment to provide necessary support for children with special needs in regular classes.
In the second groupwork session, the participants were divided into groups by themes ("educational support," "class support" and "human resource development"), and members of each group reviewed measures employed at their own schools. Presentations were later made with lots of positive perspectives such as "rather than complaining about the lack of teachers in charge of children in multiple grades, or coordinators of special needs education, we need to think about how to produce such talent."
Through this workshop, the participants agreed that school principals' clear visions can help schools to create a new system to give support to children in regular classes, and forge collaboration with external organizations even if they have only a limited number of personnel.
The participants are expected to practice what they learned at the workshop in their workplaces and make a presentation at a follow-up workshop held in December 2023.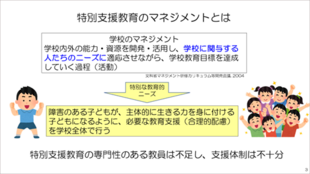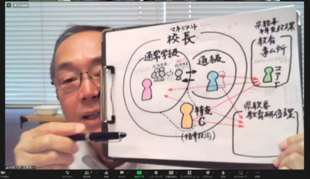 2023.09.05
Internal links
Original sites
External links
File links