GU Students win the awards at business plan competitions
Ms. SATO Ayane and Mr. GO Tomohiko (first year students, the Graduate School of Natural Science and Technology) won the "Screening Committee Special Award" at the 19th Campus Venture Grand Prix1 (national level) held on Friday, February 3, 2023. On the same day, Mr. ITO Shion (first year student, the Faculty of Applied Biological Sciences) and Mr. KOBAYASHI Kouei (second year student, the Faculty of Engineering) won the highest prize and "Global Business Prize" at the "13th Business Sozo (creation) Competition2."
Ms. Sato and Mr. Go presented their business plan on a completely new way of hair coloring (injecting pigments through holes in hairs). Mr. Ito and Mr. Kobayashi made a presentation on the use of powders made from damaged bananas abandoned in the Philippines.
On Friday, February 24, the students visited the Office of the President and reported their awards to President YOSHIDA Kazuhiro. Ms. Sato and Mr. Go mentioned their continued efforts to extend the duration of coloring from the current maximum of one month or so. Mr. Ito and Mr. Kobayashi expressed their strong ambitions to brush up on their English to succeed in global competitions. President Yoshida wished them the best for their next achievements and success in the future.
1) Campus Venture Grand Prix is organized by Nikkan Kogyo Shimbun (Daily Industrial News)
2) Business Sozo (creation) Competition is sponsored by Shinagawa Business Club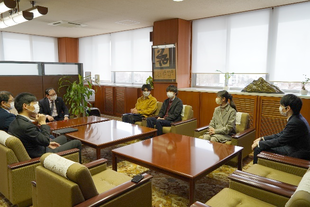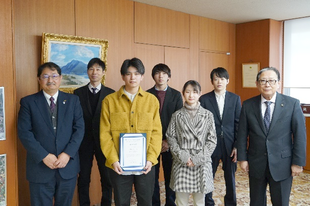 2023.03.08
Internal links
Original sites
External links
File links