Mr. AKAMATSU Ryoichi won the Gold Medal at "Astana 2023"
Mr. AKAMATSU Ryoichi who graduated from the Graduate School of Education, Gifu University in 2020 (he currently belongs to Awards Co., Ltd., and is a research student of the Graduate School of Medicine, Gifu University) won the Gold Medal in the male high jump (record: 228cm) at the "Asian Indoor Athletics Championship Astana 2023 (held in the Republic of Kazakhstan from Friday, February 10 to Sunday, February 12)." In this competition, Mr. Akamatsu renewed his record followed by his winning the Gold Medal (record: 227cm) at the "2023 Japan Indoor Meet in Osaka" held in Osaka from Saturday, February 4 to Sunday, February 5.
On Tuesday, February 21, Mr. Akamatsu and Assistant Professor HAYASHI Ryohei (special trainer for Mr. Akamatsu and a manager of the Truck & Field Club at GU) visited the Office of the President and reported the two winnings to President YOSHIDA Kazuhiro.
"I believe my new approach to running helped me renew my record. I will continue practicing hard to produce the best record," said Akamatsu. President Yoshida congratulated him on his great achievement and wished him every success in the future competitions with strong support of Assistant Professor Hayashi.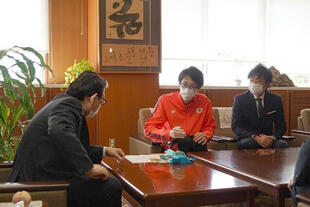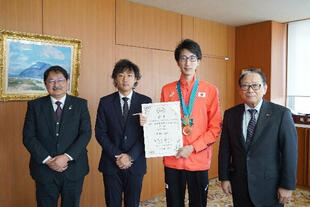 2023.03.01
Internal links
Original sites
External links
File links