Gifu University's Certification for "Active Child Rearing and Women Empowering Organization" by the Gifu City Government
Gifu University was certified as "Active Child Rearing and Women Empowering Organization1" by Mr. SHIBAHASHI Masanao, Mayor of Gifu City at the "2022 Active Child Rearing and Women Empowering Organization Certification Ceremony" held on Friday, February 10, 2023.
Since 2019, the Gifu City Government has been certifying business entities as "Active Child Rearing and Women Empowering Organization" to honor their efforts to encourage work and life balance, to promote gender equality, active child rearing by both parents and to create a work environment where women can assume an active role by using their skills and expertise. The government hopes that through this certification system, more companies provide childcare support programs for their workers, and more opportunities are given to women workers to succeed in their workplace. Its final aim is to create a society where every member of the community helps men to engage in child rearing and women to assume bigger roles in society.
Gifu University was acknowledged for its endeavors for promoting diverse workstyles including working from home, facilitation of women's empowerment, men's active involvement in childcare and anti-harassment measures. Following the certification from 2020 to 2022, the university's latest certification is applicable from 2023 to 2025 in the two categories of "Active Child Rearing Division" and "Women Empowering Division."
Vice President OYABU Chiho (Diversity, Human Rights and Library) visited the Office of the President and reported to President YOSHIDA Kazuhiro for the certificate on Monday, February 13. In her meeting with the president, she said, "Our continued efforts to promote gender equality are acknowledged by the city government. We would like to continue working on increasing the percentage of female researchers on campus." In response, President Yoshida underscored the importance of gender equality to generate a campus environment where both men and women can exercise their leadership in their respective fields of activities.
Tokai National Higher Education and Research System (Gifu University is a constituent member) made a "Diversity, Equity, Inclusion & Belonging" declaration in December 2022, and under this declaration, Gifu University is making a persistent effort to make the campus comfortable to learn and work for every student and staff member.
1)Tentative English Name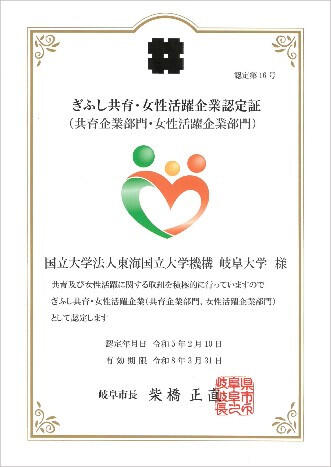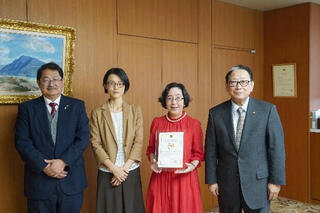 2023.02.28
Internal links
Original sites
External links
File links