Space Engineering Seminar 2022 Closing Ceremony
The Center for Collaborative Study with Community (CCSC) and the Faculty of Engineering, Gifu University conducted "Space Engineering Seminar 2022 Closing Ceremony" on Saturday, December 17, 2022. Space engineering seminars are held every year as part of activities of "Gifu Space Project Study Meeting."1) Their objectives are; 1) to offer senior high school students an opportunity to experience Gifu University education firsthand and, 2) to highlight the dynamics of aerospace industry in Gifu for the next generation, and 3) to motivate the youths to engage in aviation businesses in the future. Approximately 100 people including business representatives attended the ceremony.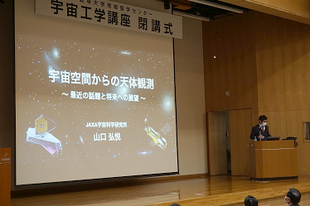 The ceremony started with an opening speech by President YOSHIDA Kazuhiro, and it was followed by a video message from Professor SUZUKI Kojiro from the Graduate School of The University of Tokyo (President of the Japan Society for Aeronautical and Space Sciences) sending his strong message about the future of space exploration to the seminar participants.
In addition to a brief seminar overview given from the staff, mission statements were announced by four schools within Gifu which are scheduled to attend "Cansat2) KOSHIEN - The Japanese High School Cansat Championship" held in February, 2023. The audience was listening to the students' ambitions and aspirations to win this national level championship next February.
Next, the audience was briefly introduced about "Gifu High School Sat (GHS) Project" and its current status. In the project, senior high school students aim to put an artificial satellite into orbit for the first time in Japan.
After a break, Associate Professor YAMAGUCHI Hiroya from the Institute of Space and Astronautical Science, Japan Aerospace Exploration Agency (JAXA), gave a special lecture titled, "Observation of celestial body from space: latest agenda and future prospects."
After Professor MASUKAWA Koichi, CCSC Director, handed out certificates of completion to individual students, the "President Award" was presented by President Yoshida to the students who submitted excellent reports, and a "Special Award" was presented by Dr. MORIWAKI Hisataka, Advisor to "Gifu Space Project Study Meeting" to a student for his excellent academic performance.
The ceremony ended with closing remarks by Professor MURAI Toshiaki, Dean of the Faculty of Engineering.
1 Gifu Space Project Study Meeting (English name tentative) was established in 2021 to discuss and carry out specific plans/agenda to foster suppliers of space equipment (mainly for artificial satellites) by tapping on expertise and knowledge acquired by aerospace businesses within Gifu Prefecture in manufacturing aircrafts, etc., and to study educational curriculum necessary to develop highly-skilled space engineers for aerospace businesses in the future.
2 CanSat is a very small and simple satellite but has similar functions with satellites and is maneuvered in the far distance from the human operators.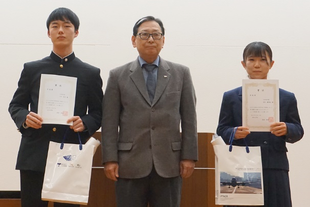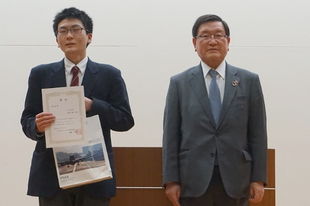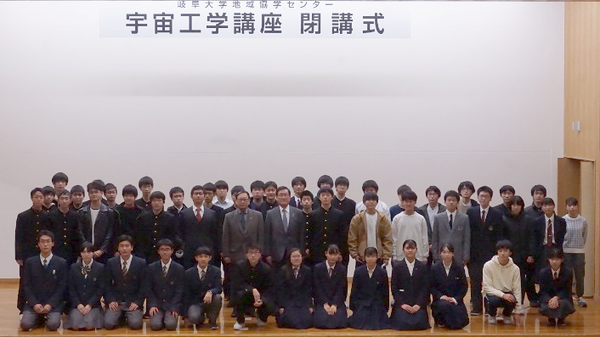 2023.01.19
Internal links
Original sites
External links
File links