G-amet wins Chubu University President Award
Gifu University Environmental University Student Promotion Office (G-amet) won "Chubu University President Award" for their presentation titled, "Missions of G-amet: Towards creation of sustainable campus environment by co-existing with nature and contribution to local community" made at the "13th Chubu University ESD/SDGs Activity Reporting" (hosted by Chubu University International ESD/SDGs Center) on Wednesday, November 30, 2022.
On Friday, December 9, 2022, two students from G-amet, Mr. HORIBE Mao (1st year student of Faculty of Applied Biological Sciences) and Mr. NAKATO Shun (1st year student of Graduate School of Natural Science and Technology) visited the Office of the President and reported their wining to President YOSHIDA Kazuhiro.
In the meeting with the President, the two students talked about creation of a campus tree map in their new project called, "Campus Plant Map Project" started in 2022. They also expressed their strong wishes to create booklets specifying trees, weeds and flowers in the near future.
"Your constant efforts resulted in the winning of Chubu University President Award in 2022. Wish you the best to achieve goals and missions for realization of sustainable campus environment," said President Yoshida.
Gifu University continues promoting environment protection and conservation activities to make a solid step forward to attain out goal of sustainable society.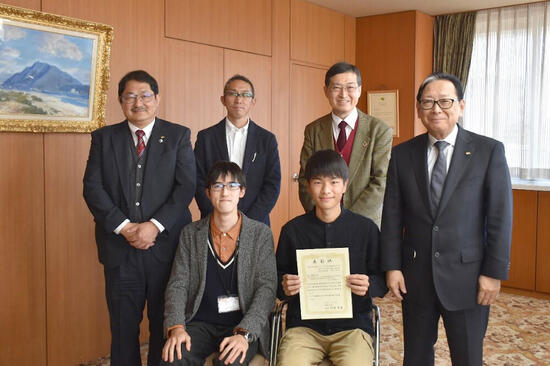 2022.12.26
Internal links
Original sites
External links
File links