GU student won "Springer Nature Award" at "HIRAKU 3MT Competition 2022"
Ms. Shiamita Kusuma Dewi from the United Graduate School of Agricultural Science, Gifu University won "Springer Nature Award" at "HIRAKU* 3MT Competition** 2022" held at Hiroshima University (Hiroshima Prefecture) on Wednesday, November 23, 2022.
HIRAKU 3MT Competition has been organized and hosted by Hiroshima University since 2015 where doctoral students compete their presentation skills regarding their research themes by using one single slide for three minutes. Competitors are screened for their research contents, quality of their presentations (easy to understand, preciseness, accuracy, etc.). Six Gifu University students applied and accepted at the English category in "HIRAKU 3MT Competition 2022."
Ms. Shiamita Kusuma Dewi won the award for her presentation on "Fate of plastic mulch residues in agricultural soil ecosystem and its influencing factor."
After her winning, she said, "I am full of surprise and sense of gratitude for everyone. I become more confident about myself and hope to continue contributing to society through my research activities."
*HIRAKU: Home for Innovative Researchers and Academic Knowledge Users
**3MT (3 minutes) Competition: started in the University Queensland, Australia in 2008, over 900 universities in 85 countries are hosting the competitions today.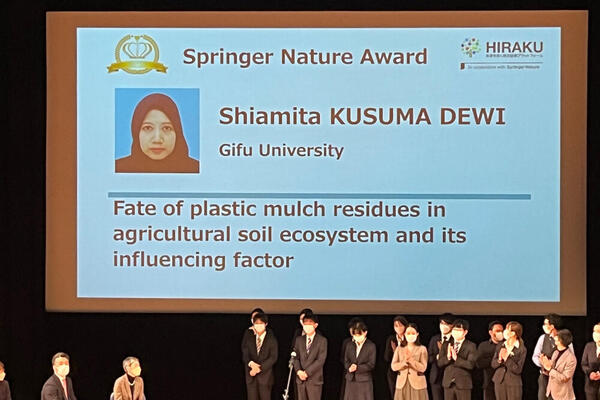 2022.12.22
Internal links
Original sites
External links
File links