Lecture by Visiting Professor HAYAKAWA Mineo
The Graduate School of Education, Gifu University opened Japan's first "School Administrators Course" (Professional Degree Program) in 2017 to provide training for school administrators. Since its opening, 14 staff sent from Gifu Prefectural Board of Education are receiving education to enhance their school administration capabilities. They learn the basics of school management and join practical training sessions at educational facilities, schools, etc. to gain administrative competency.
On Thursday, December 8, 2022, Visiting Professor Hayakawa of Gifu University gave a lecture on professional school management titled, "School Principal as School Administrator" as part of practical training. Professor Hayakawa is a leading architect of creating a collaborative platform between the Graduate School of Education and Board of Education to cultivate school administrators who can play a leadership role in school administration in the future. He is also a special member of Central Council for Education* and already made a number of proposals on educational policies to the government. Professor Hayakawa gives a lecture every year and introduces his experiences as education specialist and his insight into educational systems. On December 8, Professor Hayakawa talked about multiple agendas he tackled while he was serving as superintendent of board of education. He also exchanged opinions with students to form a consensus for an ideal school administrator who needs to work as educator, manager and public servant.
Students were given an opportunity to learn a lot about school management and operation from Professor Hayakawa by listening to his continued efforts and strong ambitions for better school administration in the future.
Central Council for Education*: an organization that carries out research and deliberations on important matters related to the promotion of education, lifelong learning, sports and other matters in response to requests from the Minister of Education, Culture, Sports, Science and Technology and provides its opinions to the Minister.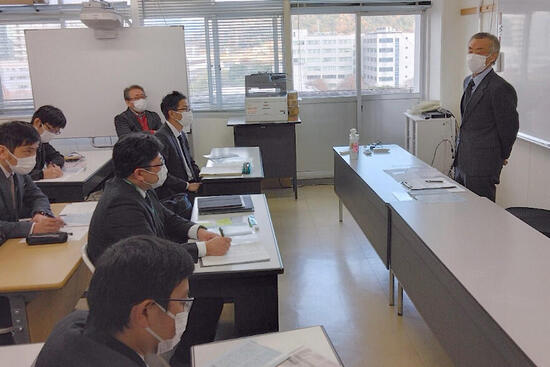 2022.12.20
Internal links
Original sites
External links
File links