IC-GU12 Roundtable Meeting 2022 opened
On Wednesday, November 9, 2022, United Graduate School of Agricultural Science (doctoral degree) hosted "IC-GU12 Roundtable Meeting 2022" online. Participants took part in the meeting from 20 universities in nine countries in South and Southeast Asia, which are forming the "International Consortium of Universities in South and Southeast Asia for the Doctoral Education in Agricultural Science and Biotechnology (IC-GU 12)."
Twenty academic staff representing their respective universities shared the current status of international joint research programs, and exchanged opinions on various case studies presented in the meeting.
The meeting was followed by a seminar titled, "The 1st International Joint Seminar on Agricultural Science and Biotechnology." Professor Rakhi Chaturvedi from Indian Institute of Technology Guwahati (India), Professor Yanico Hadi Prayogo from Institut Pertanian Bogor (IPB, Indonesia), and Associate Professor KOBORI Hikaru from Shizuoka University (Japan) gave speeches on the themes of natural product chemistry and biology. Approximately 120 people including students from IC-GU12 attended the seminar.
Lastly, "UGSAS-GU & BWEL Joint Poster Session on Agricultural and Basin Water Environmental Sciences 2022" was jointly hosted online by the members of "Rearing Program for Basin Water Environmental Leaders (BWEL)" of River Basin Research Center, Gifu University. Twenty-two students competed the quality of posters, of them, five students were presented the best poster award.
Participants learned how to find solutions when they face difficulties in their research work by listening to the case studies presented at the meeting. They were also informed of the latest research and science technologies in the world through the speeches of guest speakers in the seminar.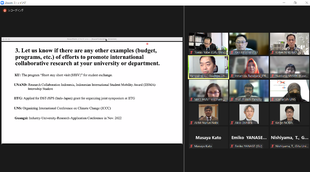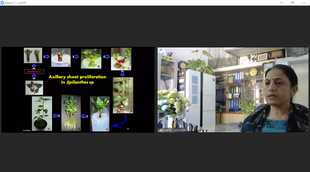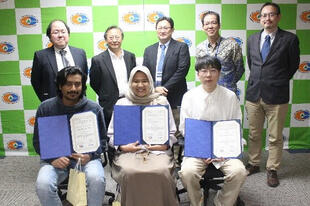 2022.11.29
Internal links
Original sites
External links
File links