Conclusion of Partnership Agreement with Sekigahara Town
Gifu University and Sekigahara Town, Gifu Prefecture, signed a partnership agreement on Monday, October 31, 2022.
Gifu University and Sekigahara Town have been closely working together in multiple fields including medicine. Under a new agreement, Gifu University and Sekigahara Town are expected to build a comprehensive, closer tie in wide-range of fields in more sustainable and expansive way. Conclusion of the latest agreement is expected to facilitate young talents to exert their strong leadership in building and fostering vibrant communities in the years to come.
Sekigahara Town is the 32nd local municipality within Gifu Prefecture that Gifu University concluded the partnership agreement with.
In a signing ceremony, Mayor NISHIWAKI Yasuyo of Sekigahara Town noted, "I hope we could continue working together to address medical issues, declining population, etc. that our town is facing. Extensive academic assets offered by Gifu University will be of great help for us to tackle issues unique to our community."
"Gifu University is aiming to become one of the best region-oriented universities in Japan, and it is our mission to reinforce partnership with local municipalities. Gifu University would like to promote the decisive "Battle of Sekigahara" (took place on October 21, 1600) with the help of university students full of fresh ideas. New medical treatments for aging population is also one of pressing issues for us to tackle together," said President YOSHIDA Kazuhiro.
In the ceremony site, two sets of body armors were on display, and both the president and mayor were wearing traditional battle surcoats, creating an aura of "Period of Warring States."
Both Gifu University and Sekigahara Town will continue to step up our efforts for collaboration in the fields of regional medicine and regional revitalization, and jointly endeavor for recreation of local communities.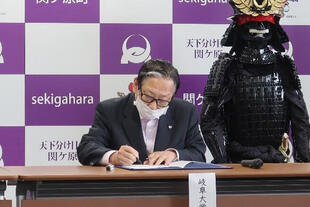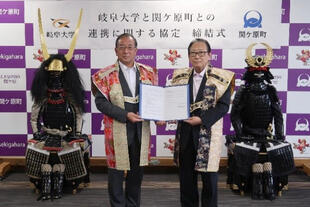 2022.11.10
Internal links
Original sites
External links
File links