Joint Press Conference among Three Universities
Board members of Gifu University, Chubu Gakuin University/Chubu Gakuin College and Gifu City Women's College attended a joint press conference regarding "Gifu Region Human Resource Development Program: to establish academic infrastructure for regional revitalization (English name tentative)" of "Human Resource Development for Regional Revitalization: SPARC 2022 (English name tentative)" by the Ministry of Education, Culture, Sports, Science and Technology (MEXT) of Japan on Tuesday, October 25, 2022. The conference was attended President YOSHIDA Kazuhiro, Vice President SUGIYAMA Makoto (General Manager, Evaluation, General Affairs, Public Relations and Fund) from Gifu University, President EMA Satoshi of Chubu Gakuin University/Chubu Gakuin College, and President HATANAKA Shigemitsu of Gifu City Women's College.
"SPARC" was launched by MEXT in AY 2022 whose objectives are to develop regional leaders who are capable of reconstructing existing educational programs through collaboration between local communities and universities.
With Gifu University as a lead university, three universities jointly applied for the program in hopes that three universities can share educational resources by establishing a "university alliance promotion corporation" on the strength of mutual partnership.
Three universities set their sights on reconstructing educational contents from the perspective of promoting interdisciplinary education and addressing a wide range of regional agendas. Three universities are also planning to start "Gifu Region Collaboration Platform (English name tentative)" made up of organizations from industry, government, academia and finances in order to work for major regional agendas and their reflection on university education.
It is our hope that "Gifu Region Human Resource Development Program" encourages all people concerned to play an active role in resolving social problems, develop human resources who can create new businesses and bring harmony to the community. We believe that the program help us continue to contribute to the sound growth of society in the years to come.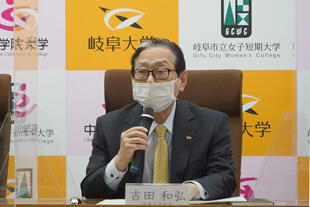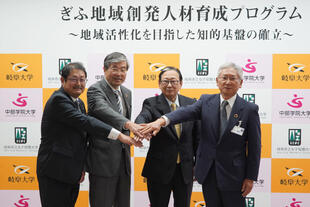 2022.11.07
Internal links
Original sites
External links
File links