Meeting between teachers studying at Professional Degree Program and members of Gifu Prefectural Board of Education
On Friday, October 21, 2022, fourteen teachers (2nd year students studying the School Administrators Prepare Course, Professional Degree Program, Graduate School of Education, Gifu University, who are dispatched from the Gifu Prefectural Board of Education), made mid-term presentations on their studies of "Development and Practice" at the Gifu Prefectural Board of Education.
"Development and Practice" is one of the core subjects of the Professional Degree Program, and in this subject, students study how to address educational issues that schools or communities are facing and aim to improve the quality of school management. Presenters reported how they are tackling and seeking solutions to a wide range of issues in the field of education through their attendance in lectures/workshops. After their presentations, each presenter received comments from the following members of the Board of Education:
・Mr. HIBI Mitsuharu, Deputy Director
・Mr. AOKI Takanori, Deputy Director
・Mr. ARIO Takahiro, Assistant Director
Their comments include appreciation for their efforts in enhancing skills as educators who are capable of guiding students in pursuance of their independent, fulfilling lives. They also mentioned that their studies are in consistent with the objectives of the program and are conducted in a comprehensive manner. These encouragements were given to all 14 participants individually. Their advice to the students are: organize individual agendas in line with their goals set at the beginning, maintain "sustainability" in their commitments, and let their achievements known to the public.
The meeting offered the participants an opportunity to enhance their managerial and administrative skills, and contribute to the improvement of school operations and communities together with the Prefectural Board of Education.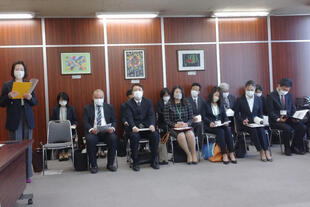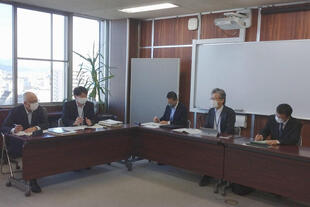 2022.11.02
Internal links
Original sites
External links
File links