G-amet received "Tokai Gakuen Award"
Gifu University student environment circle, G-amet was presented "Tokai Gakuen Award" at "Tomoiki SDGs Symposium Challenge Award Togaku" on Friday, September 23, 2022.
The "1st Tomoiki SDGs Symposium Challenge Award Togaku" is hosted by "Tokai Gakuen University Tomoiki Education Organization.*" Organizations whose members ranged from elementary school students to university students in Japan made their presentations on their SDGs** activities. Forty-eight organizations applied, of them, six organizations including G-amet received the award.
*Tokai Gakuen University Tomoiki Education Organization: name tentative
**SDGs (Sustainable Development Goals): a collection of 17 global goals designed to be a "shared blueprint for peace and prosperity for people and the planet, now and into the future," set up in 2015 by the United Nations General Assembly (UN-GA) and are intended to be achieved by 2030.
On Thursday, October 13, members of G-amet visited the Office of the President and reported their achievement to President YOSHIDA Kazuhiro. The members explained their used book handover activities, nature rebirth projects in Bangaike Pond (on campus), etc. "We are engaging in conservation activities while thinking about what we, individuals can do to protect our environment," said one of the members.
President Yoshida expressed his strong wishes for the members' continued environmental activities which could become a role model for their juniors, and help the University make its conservation efforts more sustainable.
Gifu University continues to promote various environmental activities and contribute to the realization of eco-friendly, sustainable society in the future.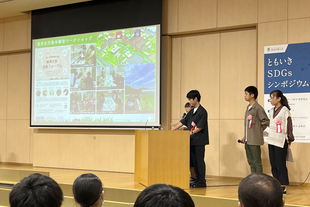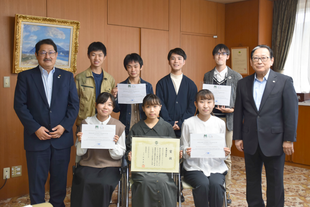 2022.10.20
Internal links
Original sites
External links
File links