Comprehensive Partnership Agreement with Sakahogi Town
Gifu University and Sakahogi Town (Gifu Prefecture) signed a comprehensive partnership agreement on Wednesday, October 5, 2022.
Gifu University and Sakahogi Town have been engaging in various joint projects in the field of education, etc. They include the University's academic staff serve as members of, or advisors for multiple committees in Sakahogi Town. With the signing of this comprehensive partnership agreement, both aim to develop human resources who can contribute to create and promote growth of a sound, dynamic society. To this end, both are committed to building a strong framework of cooperation, and continue to foster partnership in a wide range of fields.
Sakahogi Town is the 31st local municipality within Gifu Prefecture that Gifu University concluded the partnership agreement with.
In a signing ceremony, Mayor SHIBAYAMA Yoshiya of Sakahogi Town expressed his ambitions for this new agreement with Gifu University. He said, "We would like to accelerate our comprehensive partnership with the University with a focus on educational issues such as "community school," school bullying, and support for childrearing."
President YOSHIDA Kazuhiro of Gifu University also expressed his strong hopes for a successful partnership with the Town. "We are so grateful for the latest conclusion of partnership agreement with Sakahogi Town. Through close cooperation with local municipalities, Gifu University with a goal of being a region-based academic hub, is expected to play a pivotal role in revitalization of local communities," said the President.
Both Gifu University and Sakahogi Town stay committed to jointly working for further growth and success of local communities.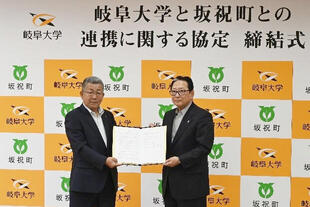 2022.10.18
Internal links
Original sites
External links
File links