Vice President Chiho Oyabu is awarded by the Japan Association of Technology Executives (JAOTEX)
On Wednesday, August 10, 2022, Vice President Chiho Oyabu (Diversity, Human Rights and Library) was awarded the 8th female engineer cultivation distinguished service award from the Japan Association of Technology Executives (JAOTEX).
The award goes to the individuals (both males and females) who have made a remarkable contribution to cultivate female engineers (including researchers) as part of diversity promotion committee activities in Japan. The major objectives of this award are to promote and support female engineers to play a leading role in business communities.
Professor Oyabu was awarded for her dedications to foster and support female researchers, reform research assistant allocation system and mentoring, facilitate childcare and nursing care support programs, teleworking, career-building programs and hosting leadership training sessions.
On Monday, August 29, Professor Oyabu visited the Office of the President and reported her awarding to the President Kazuhiro Yoshida. Professor Oyabu noted, "I believe that campus-wide support for female researchers, and visiting lectures and symposiums on promotion of gender equality organized by the members of Gender Equality Promotion Office all resulted in my awarding." President Yoshida gave her words of encouragement who said, "It is a great honor that one of our staff received this award particularly because many winners in the past are the people from the business community."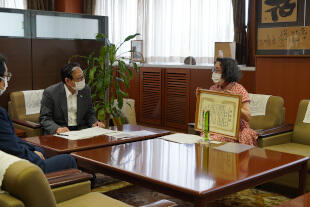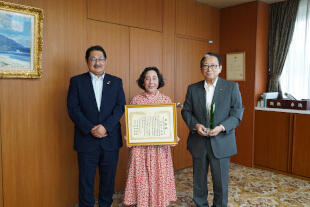 2022.09.05
Internal links
Original sites
External links
File links