FD and SD Workshop: "Students are becoming a target, it's time to act!"
Liberal Arts Education Center, Organization for Promotion of Higher Education and Student Support, Gifu University held a first online Faculty Development (FD) and Staff Development (SD) workshop for Gifu University staff, students and the general public on Wednesday, July 20 (12:05pm - 12:55pm), 2022. The workshop titled, "Students are becoming a target, it's time to act!" was attended by 388 people.
From April 1, 2022, legal age for adulthood is lowered from 20 to 18 years old in Japan, and university students aged 18 and 19 are no longer protected from the liability for their cancellation of a contract. Therefore, they are more likely to become a target of fraudulent business practice, and may get involved in wrongdoings without their knowledge.
In the workshop, lecturers and participants discussed why education is necessary to protect consumers, and the vulnerability of students through speeches and dialogues.
The workshop began with an opening speech by Dr. Makoto Sugiyama, Vice President (General Manager, Evaluation, General Affairs, Public Relations and Fund). It was followed by a speech of Dr. Chiho Oyabu, Vice President (Diversity, Human Rights and Library, and Vice President of Japan Academy of Consumer Education) titled, "Why consumer education is necessary; victims or offenders?" She spoke about troubles that young people actually went through as consumers, and troubles they encountered when they purchased items via the internet.
Next, President of Gifu Prefecture Bar Association, Mr. Makoto Mikoshiba gave a speech titled, "Can students be protected by laws?" He introduced people's rights to enter contracts and laws which protect consumers. In addition, he gave a warning concerning the limit of remedies provided by law.
Later Dr. Oyabu and Mr. Mikoshiba exchanged their views on the necessity of consumer education, networking to provide consultations for consumers (through consumer centers, etc.), and accessibility of available remedies (such as consultations with lawyers, etc.) The two also underscored the importance of self-taught by students to be smart consumers.
Lastly, Dr. Toshihiro Yamada, Vice President (Academic Affairs and Student Support) made his comments and wrapped up the workshop.
Liberal Art Education Center continues holding FD and SD workshops to educate and inspire students and staff of Gifu University and help them tackle various socioeconomic issues.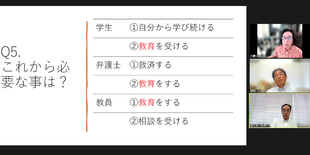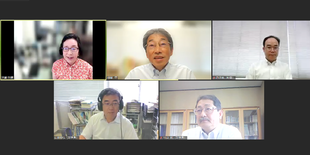 2022.08.04
Internal links
Original sites
External links
File links