Conclusion of Partnership Agreement with Ōno Town
Gifu University and Ōno Town, Gifu Prefecture, signed a partnership agreement on Wednesday, June 29, 2022.
Gifu University and Ōno Town have been in close collaboration with one another through assignments of Gifu University academic staff to be the members of multiple committees, advisors for plans and projects, etc. for Ōno Town. Under a new agreement, Gifu University and Ōno Town are expected to build a comprehensive, closer tie in wide-range of fields in more sustainable and expansive way. Conclusion of the latest agreement is also hoped to facilitate young talents to exert their strong leadership in building and fostering vibrant communities in the near future.
Ōno Town is the 30th local municipality within Gifu Prefecture that Gifu University concluded the partnership agreement with.
In a signing ceremony, Mayor Kouzo Usami of Ōno Town noted, "I hope we can reflect Gifu University's valuable assets and students' fresh ideas to our administrative policies."
"I would like to give back to Ōno Town in its community-building efforts by offering our achievements and knowledge. As an academic center of community, I hope we could continue deepening our partnership with the Town and meet the needs of its citizens," said President Kazuhiro Yoshida of Gifu University.
Ōno Town is planning to appoint two of its staff to be "local coordinators" for the University and discuss together such issues as proper size of elementary and junior high schools, assignments of teaching staff, landscaping in and around Ōno and Gōdo Interchange at Tōkai-Kanjō Expressway, etc. to further promote regional revitalization.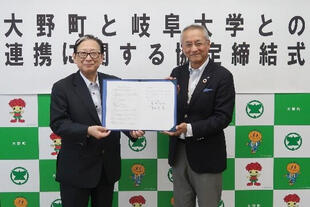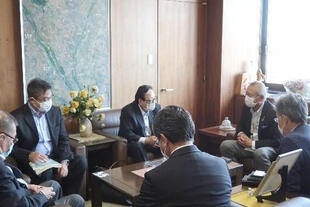 2022.07.13
Internal links
Original sites
External links
File links