GU Team wins Highest Award at Tongali Business Plan Contest 2022
Four Gifu University students teams were awarded at Tongali Business Plan Contest 2022 held on Saturday, June 11, 2022.
Undergraduate, graduate students of universities in Tokai Region (Aichi, Gifu, Mie and Shizuoka Prefectures) are eligible to apply for the contest. Its major objectives are to create business ventures from universities and promote entrepreneurship.
On Monday, June 27, representatives of the teams reported their winning to President Kazuhiro Yoshida in the Office of the President. They spoke about their unique business plans and expressed their hopes and dreams in the future such as "establish own company within this year."
President Yoshida made the following comments for encouragement: "I hope GU students including your juniors take over your forward-looking approaches and contribute to revitalization of Gifu University. I also expect that our academic staff emulate these outstanding students and lead GU to become one of the best regional academic centers in Japan."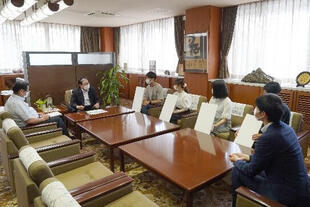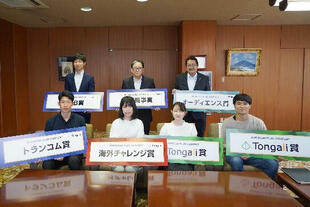 The following are the names of awards and the teams' details:
Tongali Award (highest award), Supporter Award (Mitsubishi Corporation Award), Audience Award
Team's name: artkake
Theme: New values for abandoned art work
Winner: Mr. Itsuki Natsume (4-year student, Faculty of Regional Studies)
Tongali Award (ranks 4th)
Team's name: Permanent Sponge
Theme: Sponge hair: Bring a breakthrough to the beauty industry
Winner: Ms. Ayane Sato (1st year student, Graduate School of Natural Science and Technology
Supporter Award (OKB Award), Overseas Challenge Award
Team's name: Gifu Milk
Theme: Milk cosmetics, bath powder: Explore possibilities of low-temperature disinfected milk
Winner: Ms. Saho Furukawa (1st year student, Graduate School of Natural Science and Technology)
Supporter Award (Trancom Award)
Team's name: Agri portal
Theme: Promotion of smart agriculture via online seminars vs. business meetings
Winner: Mr. Ryota Sugimoto (2nd year student, Faculty of Applied Biological Sciences)
2022.07.11
Internal links
Original sites
External links
File links