GU Gold Prize winning team paid a courtesy call on Governor of Gifu Prefecture
On Tuesday, June 7, 2022, Gifu University student team who won Gold Prize and Industrial Design Award at "The 14th Die and Mold Student Contest" (hosted by Japan Die & Mold Industry Association in April) paid a courtesy call on Governor of Gifu Prefecture, Hajime Furuta at the prefectural government office. They were accompanied by President of Gifu University, Kazuhiro Yoshida and Professor Yoshinori Yoshida, Director of Center for Advanced and Smart Die Engineering Technology, Gifu University.
In the Contest, students who are studying how to create metal molds and dies at school make molds under the same given theme. Their products are on display at "Intermold" Exhibition and make presentations as well. It aims to raise people's awareness about the importance and interest of mold and die manufacturing both at home and abroad, and also enhance students' technological skills. In the exhibition, businesspeople are free to visit students' booths and interact with students, providing both a rare opportunity to share and exchange ideas about issues arising from manufacturing businesses.
"We repeatedly conducted computer simulations to create a special mold which can handle eight different processes. Furthermore, our team paid extra cautions for environment in our process of manufacturing and did our best to smoothen curt surfaces as much as possible" said one of the team members when he explained to the Governor. They later handed their winning mold and its prototype to the Governor. After students and the Governor talked about some technical matters, students received words of encouragement from the Governor.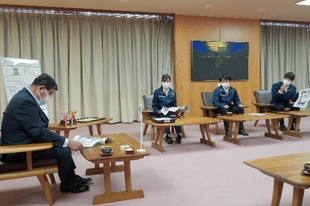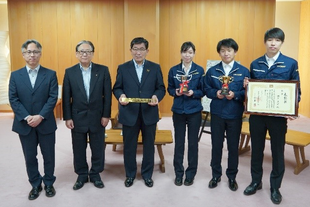 2022.06.17
Internal links
Original sites
External links
File links