Disinfectant Bottles Donated by President of MG International Trade., LTD
President Tian Jianhua of MG International Trade., LTD kindly donated 4,325 disinfectant bottles to Gifu University on Wednesday, April 27, 2022. Mr. Tian Jianhua is a graduate of Graduate School of Applied Biological Sciences of Gifu University. The donation plan was materialized by the intermediary of Professor Emeritus Takao Amaya of Gifu University who was supervising Mr. Tian Jianhua at the school.
Donated disinfectant bottles were distributed to faculties, graduate schools, etc. and were placed in multiple spots within campus to prevent the spread of COVID-19 infections. We deeply appreciate Mr. Tian Jianhua's kind donation to secure the safety of Gifu University students and staff.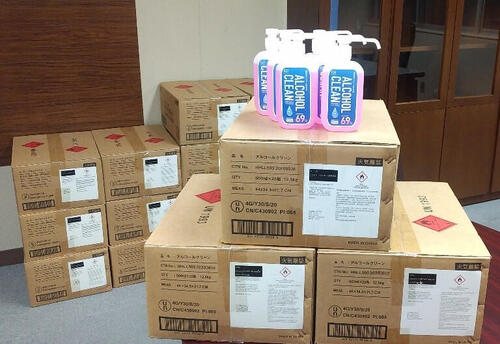 2022.05.11
Internal links
Original sites
External links
File links