GU-GLOCAL kicks of new "Glocal Lesson"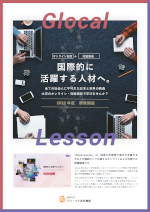 Gifu University Organization for Promotion of Glocalization (GU-GLOCAL) started a new video streaming site, "Glocal Lesson" in April, 2022.
Viewers of "Glocal Lesson" are expected to play an integral role in internationalization efforts deeply rooted in the community (glocalization: global + local). Through "video on demand" platform, the Lesson aims to help local industries, businesspeople, etc. realize their global ambitions via comprehensive intercultural education. We are convinced that participation in the Lesson enables people to develop their understanding about intercultural affairs and motivates them to join various recurrent educational programs in the future.
After member registration, people can view the Lesson for free or by paying subscription fees.
We look forward to welcoming Gifu University students, staff, members of local municipalities, businesspeople, local citizens or anyone interested in intercultural affairs to join this newly launched Glocal Lesson by GU-GLOCAL.
Please register your membership by accessing

Glocal Lesson website
*For Gifu University students and staff: please confirm emails from Gifu University or access "Campus-G" for Glocal Lesson before your registration.
---
2022.04.19
Internal links
Original sites
External links
File links